Watch: Mercedes-
AMG GT

Black Series Sets New Nürburgring Record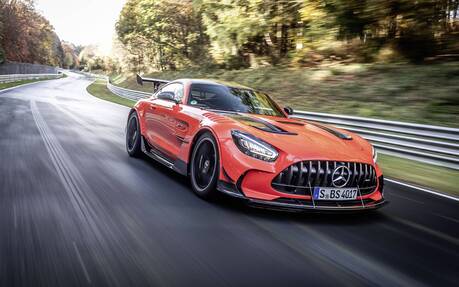 The new 2021 Mercedes-AMG GT Black Series, which is inspired from the GT3 race car, recently posted a lap time of 6:48,047 minutes on the legendary Nürburgring, setting a new record for production vehicles.
The feat is even more remarkable considering that some sections of the 20.8-kilometre-long track were not completely dry, the temperature was just 7 degrees Celsius and it all took place in low-light conditions.
Driver Maro Engel obviously chose all the right settings to maximize speed and handling, including for the front splitter, rear spoiler, wheel camber, suspension damping and antiroll bars. Let's not forget the Michelin Pilot Sport Cup 2 R MO tires that were specially designed for this car (285/35ZR19 front, 335/30ZR20 rear).
"It's really impressive how much downforce the Black Series generates and how confident and reliable it can be driven, even at the absolute limit," Engel said. "My hat is off to the developers from Affalterbach for what they have put on wheels here."
Here is footage from inside the cockpit:
In case you forgot, the Mercedes-AMG GT Black Series boasts the most powerful AMG V8 of all time, which can generate a staggering 720 horsepower and 590 pound-feet of torque. Engineers have also improved throttle response for more explosive acceleration. Power is sent to the rear wheels via a seven-speed AMG SPEEDSHIFT dual-clutch transmission that benefited from a few upgrades of its own.
Officially, the GT Black Series sprints from 0-100 km/h in 3.2 seconds and 0-200 km/h in under nine seconds. Top speed is rated at 325 km/h.