2021 Cadillac Escalade: Royalty Without Borders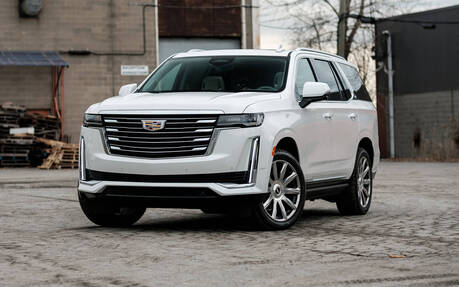 The Cadillac Escalade has become a staple of America as much as Elvis, Coca-Cola or Amazon. Originally introduced in 1999 as a response to the Lincoln Navigator, it started as a jazzed-up GMC Yukon Denali sporting a different grille.
Over the years, the Escalade has worked its way up the ranks of the finest luxury SUVs on the planet, outpacing the model it was based on in the first place.
To this day, over 600,000 units have been sold in the U.S. alone. With a brand new generation making its debut for 2021 and further separating itself from the platform-sharing Chevy Tahoe/GMC Yukon, Cadillac will likely enjoy even more success.
Here's an amusing story: Earlier this year when we shared a video on social media, many fans from Europe and Africa contacted us to learn more about the new Escalade. They wanted to know how much it would cost to bring the vehicle to their respective countries, even asking for our help to complete the process.
As for Canadian customers, all they need is to shell out a minimum of $89,798, not counting destination and handling, taxes and options. In top-line trim, you're looking at a price of $121,298.
Luxury or Sport
As with every other product in the Cadillac lineup, the 2021 Escalade is available in two models. The flashy Luxury is all about chrome, while the Sport replaces most of the shiny stuff with gloss black elements. The latter is way more attractive in our book and less likely to go out of fashion down the line.
There are also two wheelbase lengths to choose from. The standard Escalade should prove even more popular than the Escalade ESV now that designers have stretched it more than 20 centimetres. The result is a more muscular body and increased passenger room.
The imposing—and somewhat intimidating—Escalade greets you with beautiful welcome lighting, then the power retractable side steps fold out and the air suspension lowers the vehicle to make access easier. If you need to put cargo in the trunk first, a simple kick above the Cadillac logo projected on the ground or a tap on the Cadillac badge will automatically open the liftgate.
Lincoln Who?
The Lincoln Navigator impressed a lot of people when it got a full redesign for 2018. A 12-inch touchscreen highlighted a cabin that was both luxurious and technologically advanced at the time. However, this all pales in comparison to the 2021 Cadillac Escalade's 38-inch curved OLED display up front and dual 12.6-inch monitors in the rear. The interior environment brings a whole new dimension to American luxury SUVs.
The aforementioned 38-inch interface is divided into three sections. When you fire up the engine, a cool, movie-like animation shows the grand vehicle you've just stepped into, after which you'll find various functions on the left allowing you to configure the centre instruments. Classic analog gauges can be replaced by a remarkable, high-quality display with augmented reality, navigation maps or even optional night vision assist ($2,300).
On the right, an entirely reconfigurable section lets you arrange the most essential apps and set everything up to maximize comfort and the overall driving experience. Variable ambient lighting is included, as well, and it's quite a sight to behold.
A Whole Other World
We're far removed from the time when the Escalade's fit and finish could be compared to the GMC Yukon's. Although the latter is much classier now, the cabin of the big Caddy has been transformed into a whole other world. The magnificent leather seats are a treat for the senses, the accent stitching and trim pieces are beautifully refined, and the attention to detail is unprecedented by GM standards.
The 2021 Escalade can accommodate up to six people in the rear—and much more comfortably so than in years past. The new independent rear suspension has allowed engineers to lower the floor and increase third-row legroom. Actually, there's more room to enjoy at each seating position. Both the second-row captain's chairs (standard) and bench seats have been revised for improved comfort and relaxation.
What Does "600" Mean?
On the rear liftgate of the 2021 Cadillac Escalade is a badge that reads "600." What's the meaning of this? Well, the marketing folks thought it would be appropriate to refer to the 6.2-litre V8 engine's torque as calculated in Newton-metres—in this case 623 Nm, which is the equivalent of 460 pound-feet. Future EVs from Cadillac will also have torque-based branding.
Funny thing, the new-for-2021 Duramax turbo-diesel gets a "600" badge, as well. This 3.0-litre inline six-cylinder mill is already enjoying quite a bit of success in the Silverado/Sierra pickups. Producing 277 horsepower and 460 pound-feet of torque, it excels in the fuel economy department with a combined city-highway rating of 9.5 L/100 km.
This is great news, especially since the gasoline V8 burns more fuel in 2021 than it did in 2020 according to Natural Resources Canada. The difference is less than one L/100 km, but considering the millions of dollars automakers spend to develop fuel-saving technologies, it's kind of odd that the new Escalade proves less efficient than its predecessor which, as you know, was universally recognized as a gas-guzzling, Mother Nature-crushing SUV.
Diesel, of course, is not the solution going forward. When will we see some form of electrification under the hood of the Escalade? GM refuses to commit for the moment. Until we get there, most customers seem to be happy with the 6.2-litre V8 (14.8 L/100 km), which has proven to be durable and reliable for more than a decade in various GM products.
More Eldorado Than Silverado
With a solid rear axle and shorter wheelbase, the previous Escalade's ride quality was not outstanding. Lincoln clearly had the edge with a sophisticated independent rear suspension. Thank God Cadillac is catching up—and how. Combined with an air damping system (seriously, don't miss this option), the new setup makes a radical improvement on the road, resulting in increased stability and exceptional handling. Comfort levels are up, too.
If you've ever driven older versions of the Escalade, you'll be amazed by the total lack of cracking noises and the supreme quietness overall. The perception of quality is much improved. Meanwhile, acceleration and passing manoeuvres are swift. The V8 is so sweet to the ears that you'll want to take full advantage of its power on a regular basis.  
Obviously, no vehicle can escape the laws of physics, certainly not this bigger, longer, Escalade. You still have to be careful when approaching corners, but the remarkable work of the suspension (which often makes you feel like you're floating on a cloud) allows for incredible agility, particularly in Sport mode. Oh, and by the way, towing capacity is rated at up to 7,500 pounds—approximately a thousand more than the Navigator.
The Cadillac of Cadillacs
Cadillac is having a tough time selling its products right now. Customers are lured by the big discounts, but there's not much that really blows people away or stands out from the competition. The new 2021 Escalade is different, however. It's an absolute flagship that convincingly elevates the brand to world-class status—a throwback to the glory days of Cadillac, a distant time when the expression "the Cadillac of (something)" rang the truest.
The makers of the BMW X7, Mercedes-Benz GLS and Land Rover Range Rover should both applaud and fear this Escalade that's made such a giant leap forward and promises to increase its market share rapidly.
Test drive report
Test model

2021 Cadillac Escalade

Trim level
Sport Platine
Price range
$89,798 – $121,298
Price as tested
125 068 $
Warranty (basic)
4 years/80,000 km
Warranty (powertrain)
6 years/110,000 km
Fuel economy (city/highway/observed)
16,8 / 12,4 / 14,6 L/100km
Options
Refrigerated console ($805), 22-inch Gloss Black wheels ($4,165), Night Vision ($2,300)
Competitive models
2021 Lexus LX, 2021 Infiniti QX80, 2021 BMW X7, 2021 Mercedes-Benz GLS, 2021 Lincoln Navigator
Strong points

Spectacular cockpit
Vastly improved dynamics
Roomier cabin
Available diesel engine
American opulence at its finest

Weak points

Increased fuel consumption (V8)
Hefty price
Maybe too much glitz (Luxury)

Editor's rating
Fuel economy
The gasoline V8 burns more fuel now. The available diesel is more efficient.
Comfort
Even with 22-inch wheels, comfort is regal.
Performance
It's amazing how such a big and heavy SUV can move so swiftly.
Infotainment
With a 38-inch interface, the Escalade easily trumps the competition. We just wish designers had made better use of all that digital real estate.
Driving
The sense of opulence and invincibility behind the wheel is hard to describe.
Overall
Cadillac has done an exceptional job with the new Escalade, which offers even more impressive technology than the Tahoe/Yukon.