Topless Toyota
GR Supra

May Be Coming Judging by This Concept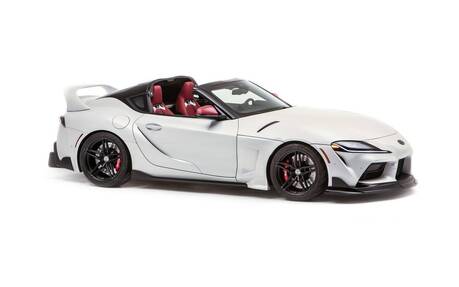 Since this year's SEMA Show in Las Vegas was replaced by a virtual experience called "SEMA360" due to COVID-19, Toyota couldn't physically reveal its unique builds.
Nevertheless, the automaker showed four of them virtually last month. Now, here comes another one that's like a dream come true: a topless GR Supra!
Could this be an early Christmas present? Is Toyota planning to debut a roadster variant of its high-performance coupe sometime soon? There's definitely hope now.
The 2021 Toyota GR Supra Sport Top is a new concept with a Targa-style roof similar to the Mazda MX-5 RF and Porsche 911 Targa. Engineers removed the top and a significant part of the GR Supra's structure, ensuring structural rigidity by reinforcing large sections of the frame. The removable roof includes two composite panels that can be stored in the car's trunk. And unlike a T-top car, there is no centre bar down the middle.
Styling is based on the GR Supra Heritage Edition displayed at the 2019 SEMA Show, paying homage to the iconic fourth-generation Supra from the late 1990s. The gloss black roof beautifully contrasts with the white body, the latter capped by a massive spoiler and diffuser in the rear.
A topless GR Supra might be the next best thing to having that elusive manual GR Supra, don't you think? Let's keep our fingers crossed!