Nio ET7 is a Chinese Electric Sedan With Tesla-beating Range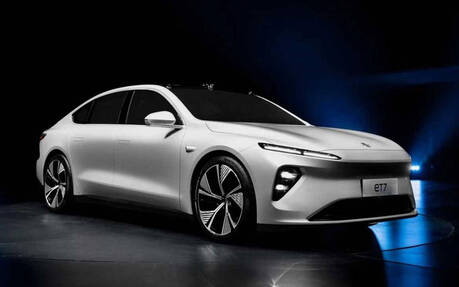 Both the Tesla Model S and Porsche Taycan are global benchmarks in the EV segment, but they will soon have to contend with an all-new Chinese sedan called Nio ET7 which made its debut this past weekend during a special event in Chengdu.
Why? You see, the ET7 will be available with a revolutionary solid-state battery—the same kind that Toyota wants to introduce in a concept later in 2021—that significantly improves range.
Actually, three battery sizes will be offered including 70 kWh, 100 kWh and a new 150 kWh unit. According to the company, the last one provides a range of more than 1,000 km based on the NEDC test cycle. Even if we lower that number to a more realistic 800 km for North America, the ET7 would easily trump the longest-range Tesla Model S (647 km).
Nio announced quite a few more eye-popping specs, mind you. The 180-kW (241 hp) front motor and 300-kW (402 hp) rear motor combine to generate 480 kW (643 hp) along with 627 lb-ft. of torque. The ET7 accelerates from 0-100 km/h in just 3.9 seconds and stops from 100-0 km/h over a distance of 33.5 metres, while its drag coefficient is exceptionally low at 0.23.
Furthermore, the car features a total of 33 sensors and cameras enabling semi-autonomous or fully autonomous driving in various situations. Similar to Tesla, some advanced functions will be available through a monthly subscription only. And the clean, minimalist interior with a giant centre display is very Tesla-esque, too.
Interestingly, instead of plugging the car into a power source, all customers will have to do is to get to one of the 500 battery-swap stations Nio wants to implement and have their depleted battery replaced with a new one in less than three minutes. The company will later take care of charging the batteries and putting them back on the road.
The Nio ET7 electric sedan will start at 448,000 yuan (approx. $88,600 CAD) when it goes on sale in China next winter as a direct rival of the Xpeng P7, not to mention the American and German competitors mentioned above.