Hyundai Tucson N Line Revealed in Full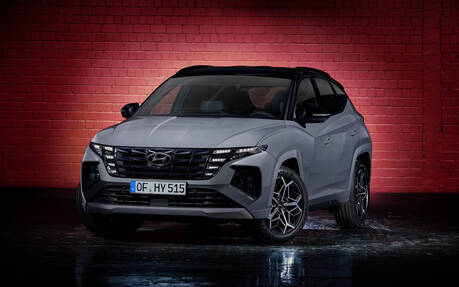 When Hyundai announced the all-new 2022 Tucson for North America back in November, it also teased the upcoming Tucson N Line that will go on sale in the middle of this year. Today we get to see the sporty model completely exposed.
Building on the spectacular design of the standard Tucson, full of sharp lines and pronounced geometric patterns, it stands out with a front grille that's a bit taller and wider. The parametric jewel patterns on the grille pieces have been elaborated with edges, creating additional reflections depending on the angle. The grille also incorporates the N Line badge. There's a bigger air intake down low, plus newly sculpted openings in the corners for a more aggressive look overall.  
As typically seen on sportier cars and SUVs, gloss black trim elements are spread all over. The roof (including the extended rear spoiler) and mirror caps are just some examples. Conversely, the side mouldings on the rocker panels and wheel arches are not the dark type. Rather, they match the body, which is available in seven colours including Shadow Grey (exclusive to N Line).
Naturally, the 19-inch wheels have a unique design, as well. Out back, the bumper is sculpted differently and dual exhaust tips appear on the right side.
The interior of the Hyundai Tucson N Line has not been overlooked. You'll find N-branded sporty seats with black suede and leather seat coverings, red stitching and piping throughout, a dedicated N steering wheel, a black headliner and metal pedals.
From a technical standpoint, Hyundai's engineers optimized the available Electronically Controlled Suspension for the new Tucson N Line to achieve a better damping of vibrations and more agility, especially in Sport mode. As a direct result, the company says the steering is more centred, while feeling better connected and slightly heavier.
As for performance, we'll have to wait for specific details about the North American version. In Europe, the N Line trim will be available with all powertrains of the new Tucson except the low-power diesel option. There's a plug-in hybrid with 261 horsepower.
A high-performance Tucson N continues to drive rumours, but no official announcement has been made yet. Hyundai did confirm that a Kona N is on the way, though.
Watch: 2022 Hyundai Tucson makes its debut