2021 Ford F-150 Raptor Unveiled as New Age of Dinosaurs Begins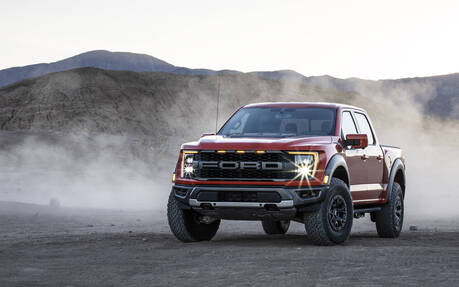 Ford today introduced the third-generation 2021 F-150 Raptor, the most extreme and most capable version of the F-150.
Based on the completely redesigned pickup, it marks an important evolution from its predecessor and promises to conquer all terrains like never before, from high-speed desert racing to low-speed rock crawling. So, where shall we start?
First of all, there's a five-link rear suspension with 24-inch coil springs and dynamic valve shocks developed by FOX resulting in class-leading suspension travel, Ford claims. BFGoodrich T/A KO2 tires come standard in a size of 35 inches or optionally in a size of 37 inches.
Turbocharged V6
The short media presentation we attended didn't include any performance figures, sadly. We know the high-output, turbocharged 3.5-litre V6 engine is back, but it remains to be seen how much power and torque engineers managed to add to the current 450 hp and 510 pound-feet.
Also, we can't really compare the 2021 F-150 Raptor to the Hellcat-powered Ram 1500 TRX that produces 702 horsepower and 650 pound-feet of torque. However, next year, Ford will strike back with the first-ever Raptor R, which could be motivated by the same supercharged 5.2-litre V8 as the Mustang Shelby GT500.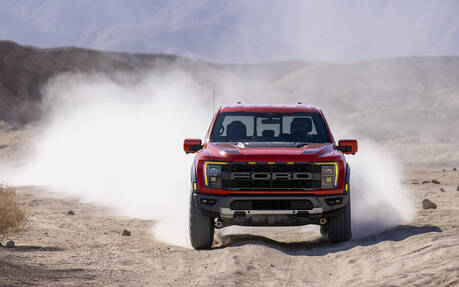 Active Exhaust System
The third-gen Raptor will sound better, that's for sure. Ford has incorporated a dual-channel exhaust system with a unique trombone-style design and active valves.
There are four available modes including Quiet, Normal, Sport and Desert Race. It's possible the first one won't wake up the entire neighbourhood if you start the engine in the wee hours of the morning. The last one? Forget it.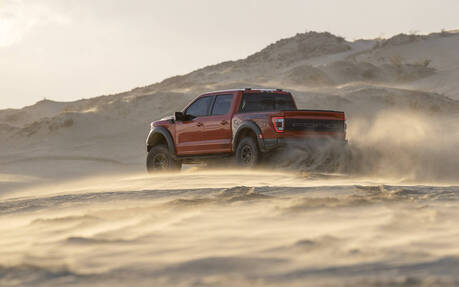 Road-going Baja Truck
Electronics work to improve the new Raptor's off-road performance, with damping controlled by sensors that monitor the truck's reactions up to 500 times per second and trigger adjustments in as little as 80 milliseconds. Carl Widmann, Chief Engineer at Ford Performance, says all aspects of the Raptor were designed to deliver precision performance at full throttle in the middle of nowhere.
Seven drive modes are part of the mix—Slippery, Tow/Haul, Normal, Sport, Off-Road, Desert Race, and Rock/Crawl. All of them modify the parameters of the steering, transfer case, stability control, exhaust, suspension, engine and transmission in their own way. They also change the appearance of the digital instrument cluster.
Incredibly, the new F-150 Raptor also enables one-pedal driving off the beaten path, which will likely prove handy on challenging surfaces such as rock gardens. With any other truck, you would have to control both the throttle and the brakes to effectively navigate your way. The new system, which comes standard, makes it possible to only use the throttle. The Raptor will automatically and proportionally apply the brakes as you release the pedal.
And here are some numbers you should know about: ground clearance is 12 inches with the standard 35-inch tires, resulting in approach and departure angles of 31 and 23.9 degrees, respectively. With the available 37-inch tires, you get 13.1 inches of ground clearance, plus approach and departure angles of 33.1 and 24.9 degrees. Impressive.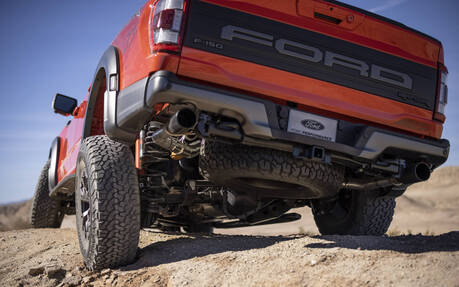 Fighter Jet Looks
Ford designers used the F-22 Raptor fighter jet as inspiration for the 2021 F-150 Raptor. The hood features a new heat extractor, while functional side air intakes can be found on the front fenders.
The cabin boasts a 12-inch centre display powered by SYNC 4 along with a folding shifter similar to that of the regular F-150. The steering wheel and on-screen graphics are unique to the Raptor, however. What's more, customers will be able to order Recaro sport buckets.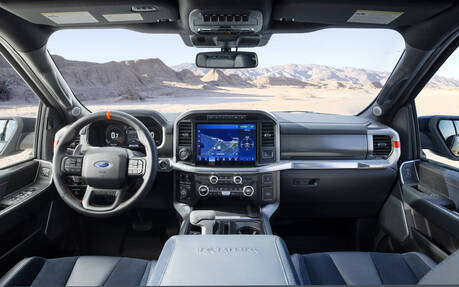 The new 2021 Ford F-150 Raptor will go on sale this summer with pricing to be announced closer to launch. As previously mentioned, the more powerful and more extreme Raptor R will be introduced next year.
Watch: Ford is working on an electric F-150, too