2021 Audi
e-tron GT

Finally Unveiled, Packs Up to 637 Horsepower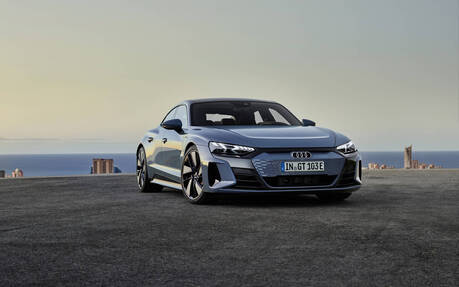 Audi today unveiled its all-new electric sports sedan in two different variants—the e-tron GT quattro and the high-performance RS e-tron GT. Both come with all-wheel drive, of course, but the power levels are not the same.
Previewed by the e-tron GT concept shown in Los Angeles back in 2018, the coupe-like production models are based on the same J1 platform as the Porsche Taycan. The motors and two-speed transmission are identical, as well.
From 469 to 637 Horsepower
In order to preserve a natural order among Volkswagen AG brands and to reflect the unique character of each car, the Audi e-tron GT quattro and RS e-tron GT are spec'd in a way that puts them between the Porsche Taycan 4S and the top-line Taycan Turbo/Turbo S models.
The base e-tron GT quattro generates 350 kilowatts, or 469 horsepower, while the explosive RS e-tron GT produces 440 kilowatts, or 590 horsepower. With Launch Control activated, however, these numbers increase to 390 kilowatts (523 horsepower) and 475 kilowatts (637 horsepower) for about 2.5 seconds.
Maximum torque is rated at 475 and 612 pound-feet, respectively, allowing 0-100 km/h sprints in 4.1 or 3.3 seconds, Audi engineers claim.
In both cases, European drivers can expect a range of 488 kilometres based on the World Light-Vehicle Test Procedure (WLTP). Battery capacity is 85 kWh, while the 800V architecture enables ultra-fast charging—less than five minutes are enough to regain about 100 kilometres. Figures and specs for North America will be announced at a later date.
All Systems Go
The new Audi e-tron GT quattro comes standard with electronic damping control, a locking rear differential and Audi Drive Select allowing drivers to choose different modes for the various systems.
Available on the e-tron GT quattro and standard on the RS e-tron GT is an adaptive air suspension. Four-wheel steering and ceramic brakes are optional on both. Wheel sizes range from 19-21 inches.
Cutting-edge Design
According to Marc Lichte, chief designer at Audi, the e-tron GT quattro and RS e-tron GT are the most beautiful cars the brand has ever created.
The proportions are those of a classic grand touring luxury car, with super-short overhangs, a long wheelbase and wide front and rear tracks. Meanwhile, the roofline is seven centimetres lower than that of the Audi A7.
Up front, the body-coloured Singleframe grille is upside down when compared to conventionally powered models from the brand. Vertical openings in the bumper ensure proper cooling for vital EV components.  
Monoposto Interior
Inside, the e-tron GT quattro and RS e-tron GT boast a driver-oriented cockpit that's based on the concept of Monoposto while at the same time emulating the design of Audi's latest combustion-engined cars.
This includes the 12.3-inch digital instrument panel in front of the driver and the 10.1-inch colour touchscreen on the centre stack. Attention to detail is evident in the way materials were chosen and assembled. The result is a warmer atmosphere than what you'll find in a Porsche Taycan, which has a more clinical look and feel.
For the first time ever, Audi customers will be able to order a natural leather-free cabin where synthetic leather combines with either Kaskade or Dinamica upholstery made from recycled fibres. Kaskade looks more like wool, while Dinamica is similar to Alcantara suede.
Exclusively built in Böllinger Höfe alongside the R8 supercar, the Audi e-tron GT quattro and RS e-tron GT also have a unique sound that was specifically developed for them, evoking performance from the driver's perspective and reflecting the car's actions including sprints from any speed as well as deceleration and braking.
Sales in Europe will begin this spring. The cars will arrive in Canada in June or July, with pricing to start at $129,900 for the e-tron GT quattro and $179,900 for the RS e-tron GT.
Watch: A tour of the Audi e-tron GT assembly plant