Hyundai TIGER is an All-terrain, All-planet Robot Concept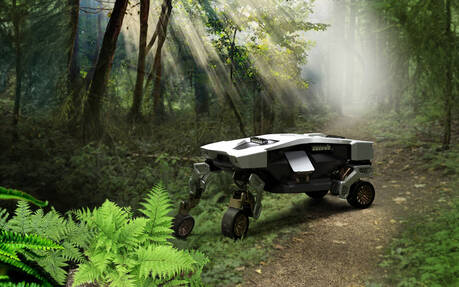 Hyundai has just unveiled the second concept in its series of "Ultimate Mobility Vehicles" created by its new design studio, New Horizons. After Elevate, meet TIGER!
Short for "Transforming Intelligent Ground Excursion Robot," this small autonomous vehicle is only marginally bigger than a large suitcase, yet it's designed to carry various types of payload—no passengers, though—while travelling over the most challenging terrains.
It would be a precious ally in areas struck by natural disaster or in other emergency situations. The automaker also envisioned TIGER to be used as a mobile scientific exploration platform in extreme, remote locations. 
The first version shown here is called TIGER X-1. Based on a modular platform architecture, its features include a sophisticated leg and wheel locomotion system, 360-degree directional control and a range of sensors for remote observation.
In normal conditions, the machine keeps its legs retracted and drives like an all-wheel drive vehicle. But when it gets stuck or needs to travel over terrain that is difficult or impassable for wheels alone, it uses its walking ability to get unstuck or more easily travel over that terrain, similar to the Elevate.
TIGER is also intended to connect to unmanned aerial vehicles—drones, if you prefer—which can fully charge and deliver it to inaccessible locations.
Hyundai's Elevate and TIGER concepts are not going to roam the Earth or another planet anytime soon, but there's a reason why the company opened the New Horizons Studio: these vehicles are not just a dream; they will become a reality someday.