2022 Infiniti QX60 to Debut With Same V6 Engine, New Gearbox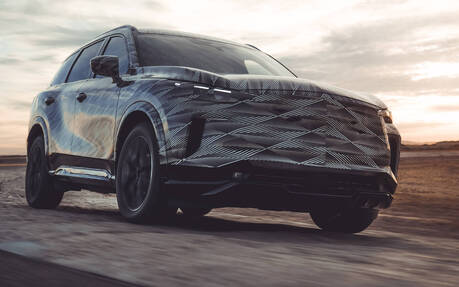 We've recently seen the completely redesigned 2022 Nissan Pathfinder, but when will its luxurious cousin, the Infiniti QX60, get a similar treatment? The official debut of the all-new 2022 model is scheduled for late spring or early summer (the exact date has yet to be determined), with sales to begin in the fall.
Today, the company released a few images of the next-generation QX60—under thick camouflage, mind you—while confirming the powertrain that will get it moving.
If you were hoping for a new engine or an electrified variant, you'll be disappointed. The three-row luxury SUV will return with the same 3.5-litre V6 that produces 295 horsepower and 270 pound-feet of torque.
However, just like the Pathfinder, the 2022 Infiniti QX60 replaces the continuously variable transmission with a ZF-developed, nine-speed automatic gearbox, which will result in "an ideal balance of power and fuel economy, response and refinement," the brand claims.
We'll wait to see the fuel consumption ratings, but there's no doubt acceleration will be more pleasant and performance will be improved. In fact, the new autobox has a larger ratio spread—almost 10:1. This is complemented by Infiniti's Active Torque Mount technology which isolates engine vibrations outside the cabin and quiets the interior.
Another improvement is the elimination of the traditional shift lever in favour of a new shift-by-wire system that opens up more usable space on the centre console, where you'll also find the drive mode selector that shuttles between five selectable modes—Standard, ECO, Snow, Sport and Personal. 
As for the exterior design, it will largely be inspired by the QX60 Monograph concept we showed you last September. Clearly, the 2022 Infiniti QX60 will look extremely sharp, but will that be enough to convince buyers and help the brand dig itself out of the hole it created? That's another story.
Watch: Infiniti unveils the QX60 Monograph concept