Ram's Most Fuel-efficient Pickup Ever is Here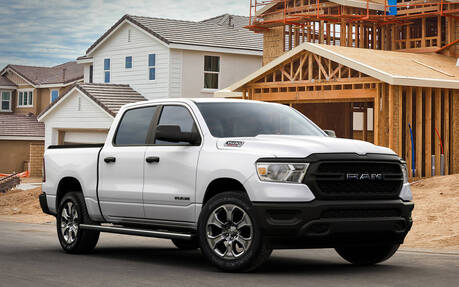 Diesel engines have almost completely disappeared in North America, except when it comes to pickup trucks. Their phenomenal torque, impressive capabilities and high fuel economy makes them a compelling choice for entrepreneurs and businesses.
Speaking of fuel economy, the 2021 Ram 1500 EcoDiesel is about to gain a new model called Tradesman HFE–short for "High Fuel Efficiency." It's the most fuel-efficient Ram pickup ever made.
The average consumption is 8.9 L/100 km, the result of 10.4 L/100 km in the city and as little as 7.1 L/100 km on the highway. We're getting awfully close to that lucky 7.0, which would have been unfathomable even just a few years ago.
For the record, the fuel economy champ remains the Chevrolet Silverado Duramax with an average of 8.8 L/100 km, including 7.2 L/100 km on the highway.
Of course, the new Ram 1500 Tradesman HFE EcoDiesel is a 4x2 model with entry-level equipment. It's available in four-door Crew Cab configuration with a 5-ft. 7-in. bed and 20-inch aluminum wheels. Other features include a black grille, tonneau cover and bumpers, wheel-to-wheel side steps and cloth bucket seats.
Under the hood, the 3.0-litre six-cylinder diesel engine produces 260 horsepower and 480 pound-feet of torque through an eight-speed automatic transmission. It would likely be possible to make it even more efficient with a 10-speed transmission, like GM and Ford do, but Ram doesn't have one.
According to the company, the diesel-powered Ram 1500 delivers over 1,600 kilometres of range on a single tank of fuel… provided you're not towing any loads and weather conditions are favourable.
Watch: 2021 Ram 1500 TRX unleashed with 702 horsepower!