Honda, Acura Dealers Want More SUVs; Will They Get Them?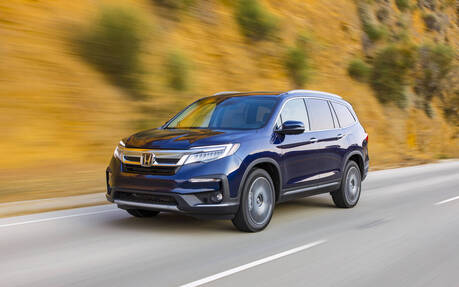 Customers seem to want more and more SUVs, and you know what? Dealers, too. While most manufacturers have introduced new models in recent years, that's not good enough for some.
According to Automotive News, Honda's National Dealer Advisory Board in the U.S. is starting to put pressure on the Japanese automaker to expand the lineup with a full-size SUV that would slot above the Pilot.
The mid-size SUV, whose current generation dates back to 2016, is due for an overhaul soon. Two years ago, Honda spun a sporty model off of it, the Passport.
While the Pilot is one of the most spacious SUVs in its class, dealers would like another vehicle to go head-to-head with the likes of the Ford Expedition and Chevrolet Tahoe.
What's more, they are petitioning for an AWD-equipped sedan as competitors increase their presence in that segment. The Subaru Legacy, Nissan Altima, Toyota Camry, Kia K5 and Mazda3 all offer AWD now, but not the Honda Accord or Civic. It many parts of the U.S.—and all of Canada—such an addition would certainly please a number of drivers.
Acura Wants More SUVs, Too
Honda's luxury brand, which has only two SUVs that account for over 70 percent of its sales, should expand its lineup, as well. The Acura National Dealer Advisory Board in the U.S. is asking for both a subcompact SUV positioned below the RDX and a large SUV with more space than the MDX.
The latter, by the way, has been completely redesigned for 2022 and begins arriving in showrooms today.
A "baby RDX" would certainly be a good way for Acura to increase sales by attracting new customers—and right away, too. On the other hand, a full-size Acura SUV would have a tougher time to enjoy success going up against the BMW X7, Mercedes-Benz GLS and others.
When we spoke with Acura Canada brand manager Emile Korkor following the debut of the new 2021 TLX last spring, he told us that Acura must still prioritize and strengthen its fundamental pieces—compact and midsize cars and SUVs, plus performance models—before exploring new segments.
So, don't expect new additions to the Acura portfolio in the immediate future. But in the longer term, maybe we'll see a few changes. In fact, one of the two EVs General Motors will build for Honda starting in late 2023 will likely be an Acura.
Watch: The all-new 2022 Acura MDX is here!