Mercedes-Benz EQC Won't be Offered in Canada After All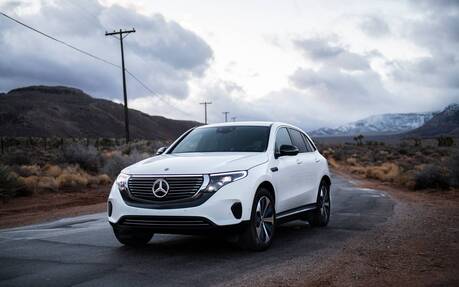 The Mercedes-Benz EQC, which was supposed to be the German luxury brand's first EV sold in North America, won't cross the Atlantic after all.
After delaying the launch until 2021 due to strong demand in other markets, then announcing that the EQS full-size sedan would instead lead the way on our continent, Mercedes-Benz has decided to cancel the SUV.
Here's the official statement we received from Mercedes-Benz Canada:
"The rollout of the Mercedes-EQ brand is significant for Mercedes-Benz Canada, with a number of models coming to our roads starting in 2021. We are thrilled that Canadian consumers will have the benefit of experiencing the Mercedes-Benz EQS as the first model in our future range of electric sedans and SUVs. Following a comprehensive review of market developments, the EQC will not be offered in Canada for now."
Is there a chance it will come at any point in the future? Maybe.
What a bizarre turn of events. We're talking about a compact SUV, an extremely popular vehicle category here in North America. The EQC would have taken on the Audi e-tron, Jaguar I-PACE, Volvo XC40 Recharge and Tesla Model Y, not to mention the upcoming BMW iX and Genesis GV60.
In the initial configuration we were shown (EQC 400), range was estimated at about 400 kilometres. That's not something to scoff at.
On the other hand, Mercedes-Benz is working with battery manufacturer CATL to deliver more advanced EVs that will reportedly enable up to 700 kilometres of zero-emission driving, starting with the EQS.
As a fully electric alternative to the S-Class, this Tesla Model S rival will celebrate its world premiere in a few weeks, followed by a Canadian retail debut in fall 2021 as a 2022 model.