2021 Volvo XC40 Recharge: Stop Calling Me Polestar!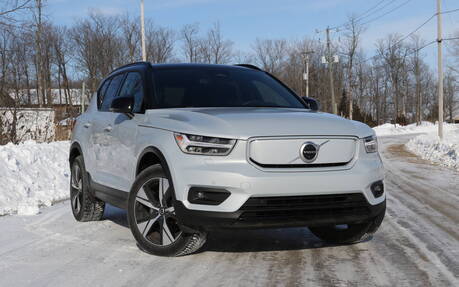 Ever since Polestar became a standalone brand, there's been some confusion around Volvo vehicles.
Polestar models used to be the performance variants in the Swedish automaker's portfolio, then the plug-in hybrid options. To make things clearer for potential Volvo customers, the Polestar name will be phased out, and electrified vehicles will now be called "Recharge."
Leading the way in Canada is the all-electric 2021 Volvo XC40 Recharge, which looks a lot like the conventionally powered XC40 except for the closed grille (because cooling isn't as important to EVs).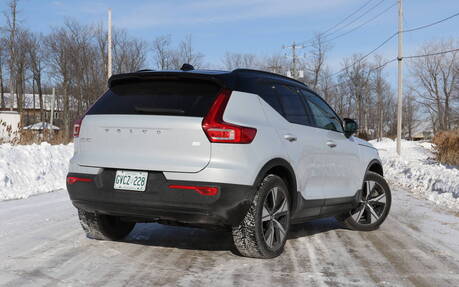 Big Battery, Short Range
The XC40 Recharge features a 78-kWh battery, which is pretty decent capacity by today's EV standards. It's enclosed in a special compartment to prevent harm to vehicle occupants in the event of a crash—nice—but provides a range of just 335 kilometres—not so nice. Consider that a Tesla Model S 75D with a 75-kWh battery offered 420 kilometres a few years ago.
Will customers be worried about that? We asked the question to Volvo reps, and they told us that 335 kilometres are more than enough for daily commutes. Oh sure, but what about the occasional trip to the country? Or longer trips?
There's also the matter of cold-weather performance. We tested the XC40 Recharge on a day where the temperature dropped to -15 degrees Celsius, and it would have been impossible to drive more than 200 kilometres. With a Tesla Model Y Long Range, you could travel at least another 100 kilometres in similar conditions, which is a major step up.
As you can see, Tesla vehicles continue to set the benchmark for EV range. The latest XC40 can't possibly compete with any of them.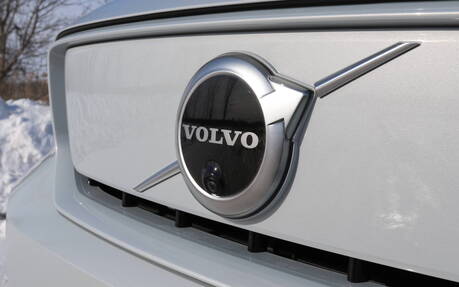 Charging Times
When it comes to charging, Volvo claims you can fill the battery from 0-100 percent charge in eight hours using a level 2 (240V) power source. The XC40 Recharge is also compatible with DC fast-charging stations supplying 150 kW of power, where 40 minutes suffice to get 80 percent of the battery's total capacity. The problem is that many of today's public charging stations run on 50 kW or 100 kW, so you'll have to be more patient than that.
In a good move, Volvo has partnered with ChargePoint so each customer gets a membership card to use this network. If you live in Quebec or Ontario, you might also want to check out the Electric Circuit's offering.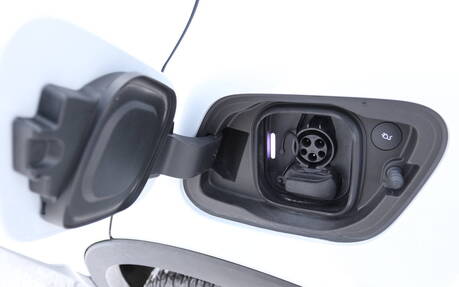 Lightning-quick SUV
Equipped with two electric motors (one for each axle) creating a full-time AWD setup, the 2021 Volvo XC40 Recharge modulates power distribution based on real-time needs. In other words, both motors are always active, even when grip is not a problem.
The 402 horsepower at your disposal result in lightning-quick acceleration, whether from a standstill or during passing manoeuvres. The XC40 Recharge will pin you to your seat and leave about 99 percent of vehicles behind.
We put the AWD system to the test on dry roads as well as snow and ice, and in typical Volvo fashion it performed admirably. Even when flooring the throttle on a sketchy, snow-covered country road, wheelspin is kept at a minimum and there's plenty of traction for you to use.
Around town, one-pedal driving is possible, and the controls prove adequately responsive. One small complaint: the vehicle slows down a bit too abruptly just before coming to a full stop. On slippery surfaces, this means the ABS often kicks in.
The XC40 Recharge offers a well-balanced ride and precise steering, making for a nice combination of comfort and agility. The most annoying thing is the excessive road and wind noise at high speeds—by EV standards, of course.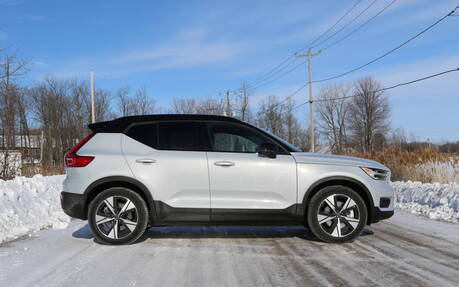 "Ok Google, Enhance My Infotainment Experience"
Volvo products are known for having a not-so-user-friendly infotainment system. The new XC40 Recharge boasts pretty much the same interface, except that it's powered by Google. And it makes all the difference.
Why? Because you no longer have to browse through various menus. Just say "Ok Google" followed by any voice command, and the assistant will work for you just like it does on your smartphone.
Another benefit is Google Maps, which offers up-to-date navigation, real-time traffic information, estimated time of arrival, and more. You can also find the nearest charging station or enjoy your favourite playlist at any moment. Google will even tell you jokes if that's what you want to hear.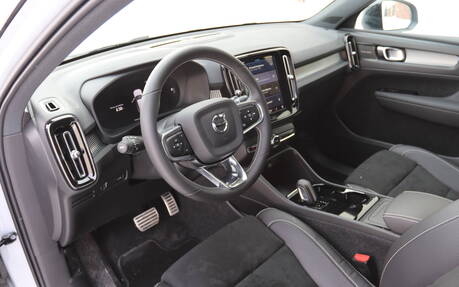 The rest of the interior is largely identical to that of a regular XC40. It's a nice place to be for four passengers, and the fairly boxy cargo area in the back proves handy. Don't forget that there's a secret storage compartment underneath the hood up front, although we must say it's not quite deep enough. Volvo engineers preferred to use the space afforded by the missing combustion engine to add reinforcements to the structure.
No EV Incentives
During the Canadian media launch of the 2021 Volvo XC40 Recharge, we were told that only a few hundred units will be sold across the country in the first year, most of them in EV-friendly Quebec.
Priced from $64,950, the vehicle is not even eligible to federal or provincial incentives, whereas its main competitor, the Tesla Model Y, qualifies for an $8,000 rebate in Quebec and $3,000 in British Columbia. Plus, you don't need to wait very long to get one.  
Will Volvo adjust the base price of the XC40 Recharge to attract more customers? We'll have to wait and see.
Test drive report
Test model

2021 Volvo XC40

Trim level
Recharge TI
Price range
N/A
Price as tested
CA$64,950
Warranty (basic)
4 years/80,000 km
Warranty (powertrain)
4 years/80,000 km
Fuel economy (city/highway/observed)
N/A
Options
N/A
Competitive models
2021 Tesla Model Y, 2021 Ford Mustang Mach-E, 2021 Audi e-tron, 2021 Jaguar I-PACE
Strong points

High performance
Competent AWD system
Comfortable ride
Google-powered infotainment is much better

Weak points

No EV incentives
Shorter range than many rivals
Not the most energy-efficient
Too much road and wind noise at high speeds

Editor's rating
Fuel economy
With a 78-kWh battery, range should be longer.
Comfort
The nicely calibrated suspension delivers a smooth ride even on rougher stretches.
Performance
Acceleration is lightning-quick compared to the gas-powered XC40.
Infotainment
Volvo's interface is not the most intuitive, but the built-in Google Assistant makes up for it.
Driving
It's not as dynamic as German SUVs, but the drive is pleasant.
Overall
Sporty yet comfortable, the XC40 Recharge lets customers down in terms of range and availability.