2022 Lexus NX Accidentally Leaked in Video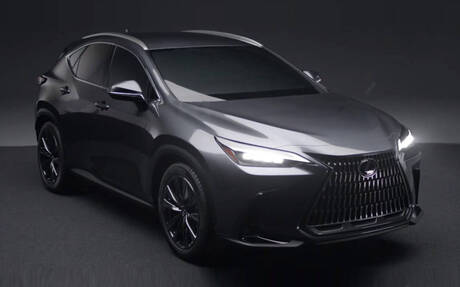 So, this week we got the new IS 500 F Sport Performance with a 472-horsepower V8 engine. What does Lexus have in store next? We'd bet on the next-generation NX crossover, which accidentally leaked online in the past few hours.
The pictures you see here come from an official-looking video that has since been taken down. It came with a tagline: "Our next chapter begins with a new icon."
As you know, the current Lexus NX launched in 2014 and is more than due for a complete redesign as many competitors have been refreshed recently.
The new model's silhouette and overall design don't represent a dramatic evolution, as was the case with the brand's compact sedan. However, the front grille, bumpers, headlights and taillights definitely have a more modern and aggressive look.
Inside, the newly arranged centre console and dashboard are quite impressive, with a huge touchscreen angled toward the driver. Great news: the awful touchpad is gone! It appears Lexus has finally caved in to the demands of journalists and customers frustrated by its multimedia interface. Overall, the cabin looks more premium and sophisticated.
Additionally, we now have confirmation that the Lexus NX will be back in three variants—NX 300 (gasoline), NX 350h (hybrid) and the first-ever NX 450h+ (plug-in hybrid), which will likely use the same powertrain as the 302-horsepower Toyota RAV4 Prime offering up to 68 kilometres of EV range.
All signs point to an official reveal taking place in the next few weeks, so keep watching this space.