2022 Land Rover Defender Gains 518-Horsepower V8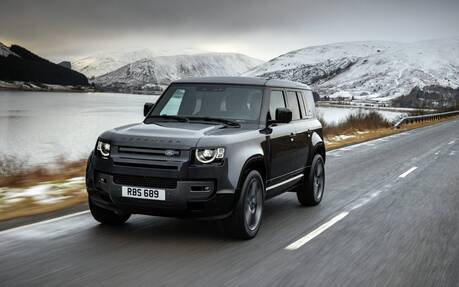 The Land Rover Defender is about to become faster and more powerful than ever. As part of a round of updates for the 2022 model year, the company is adding something big under the hood.
Specifically, the new-generation Defender gets Jaguar Land Rover's iconic supercharged 5.0-litre V8. Producing 518 horsepower and 461 pound-feet of torque, that engine sends the luxurious off-road SUV from 0-100 km/h in 5.2 or 5.4 seconds depending on the configuration (short-wheelbase Defender 90 or long-wheelbase Defender 110) and up to a top speed of 240 km/h.
We imagine future owners will make the most of it on paved roads rather than on dirt trails or out in an open field, especially since the Defender V8 is about 600 pounds heavier and thus a bit less agile. The extra weight comes not only from the engine, but also various driveline and chassis reinforcements such as larger stabilizer bars.
Land Rover engineers have also recalibrated the rear differential, torque distribution, Terrain Response 2 system and drive modes including the new Dynamic mode. Unsurprisingly, the brakes are bigger, too, and sporting unique Xenon Blue callipers. A few badges and model-specific trim pieces also set the Defender V8 apart on the outside and inside.
By the way, if you don't need 518 horsepower, you'll still be able to select the 395-horsepower 3.0-litre six-cylinder engine or settle for the standard 296-horsepower 2.0-litre four-cylinder. As for the plug-in hybrid variant sold in Europe, we don't know when it might make the jump across the Atlantic.
Other changes to the 2022 Land Rover Defender include a Pivi Pro infotainment upgrade with an available 11.4-inch curved HD touchscreen similar to other Jaguar Land Rover models, wireless smartphone charging and a more powerful Wi-Fi hot spot. Pricing and on-sale date for Canada will be announced later.