Jeep Goes Full Luxury With 2022 Wagoneer,
Grand Wagoneer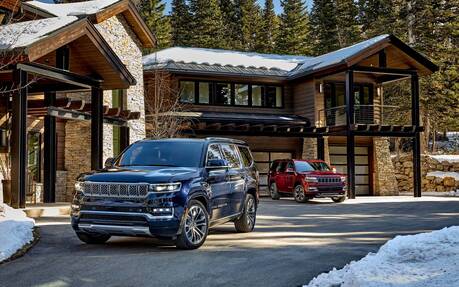 Jeep today unveiled a pair of brand new models—the 2022 Wagoneer and Grand Wagoneer.
Make no mistake: other than the name, these vehicles have nothing to do with your dad's Wagoneer. No more wood panels on the sides. Jeep is pulling out the big guns as it aims to go head-to-head with iconic luxury SUVs such as the Land Rover Range Rover, Mercedes-Benz G-Class and Cadillac Escalade.
Wagoneer vs. Grand Wagoneer, What's the Difference?
Both the Wagoneer and Grand Wagoneer are big, three-row SUVs with high-quality materials, although the latter is larger and even more opulent, featuring premium leather and available honey-finished wood trim.
Another great example of the level of refinement you can expect is the collaboration between Jeep and McIntosh on a specifically designed audio system that's sure to delight music lovers.
Strong Powerplants
We were really curious to find out Jeep's powertrain strategy for the new 2022 Wagoneer and Grand Wagoneer. Would the company opt for smaller, turbocharged engines like the European rivals do, or would it go with larger, more conventional powerplants instead?
In typical American fashion, the Wagoneer comes standard with a 5.7-litre HEMI V8 that delivers 392 horsepower and 404 pound-feet of torque via an eight-speed automatic transmission.
The Grand Wagoneer, meanwhile, gets a 6.4-litre HEMI V8 generating 471 horsepower and 455 pound-feet of torque, also with the eight-speed box. The bigger mill allows a maximum towing capacity of 10,000 pounds, which is tops in the full-size luxury SUV segment.
By the way, Jeep has already confirmed that a plug-in hybrid powertrain will be added at a later date, though it didn't say exactly when.
Other goodies include an adaptive air suspension similar to that of the Ram 1500, electronically controlled 4WD system that adjusts to terrain conditions, and generous approach and departure angles for impressive off-road capabilities.
Cutting-edge Technology
Inside both SUVs, a number of high-resolution screens combine to deliver a state-of-the-art driving experience rivalling what the competition from across the Atlantic offers. The traditional gauges in front of the driver are replaced by a large digital display that provides much more flexibility in terms of information and navigation. Meanwhile, the centre interface is powered by the latest version of Uconnect.
In the top-line Grand Wagoneer, you'll even find a third display up front facing the passenger, as well as additional displays for rear-seat occupants.
An LTE Wi-Fi hotspot is included along with available Amazon Fire TV for Auto—an industry first giving subscribed customers access to their favourite shows, movies, apps, unique vehicle features and Alexa.
Of course, there is much more content to talk about, and we'll get the opportunity to review the most interesting features in an upcoming first-drive story. But as far as vehicle introductions go, this one was pretty impressive. Clearly, Jeep means business.
Oh, and we can even give you pricing details already. The 2022 Jeep Wagoneer will range from $70,000-$86,000, while the Grand Wagoneer will start at around $100,000. Pre-orders are now being accepted, with the first deliveries scheduled for the second half of 2021.