Volvo Asked Fans to Imagine the Car Garage of the Future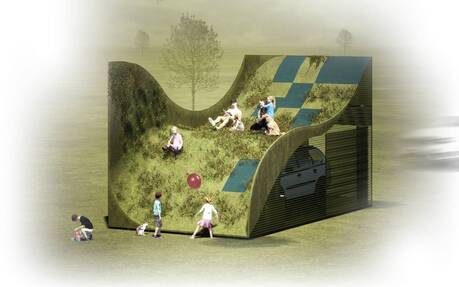 Automakers are starting to use new techniques and materials to make their vehicles greener and more sustainable. House and building designers have been doing the same for many years now, with LEED certification a token of environmental friendliness.
That's what prompted Volvo Canada to launch The New Garage design challenge. And we have a winner.
"Parking-Parc" by Montreal-based Tiam Maeiyat upcycles the garage space into a new form of family playground—and what must surely be an awesome slide come winter.
The cascading rooftop, which is covered in grass and plants, is intended to provide a rainwater buffer, purify the air, reduce the ambient temperature, regulate the indoor temperature and save energy.
Going a step further, a semi-transparent, photovoltaic glass façade and flexible solar panels power the garage—and maybe even the fully electric Volvo XC40 Recharge parked inside, who knows?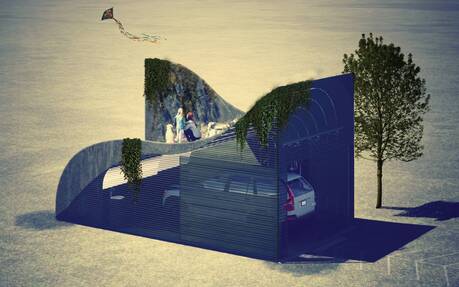 The best part? Despite its pretty unorthodox design, construction costs would probably be not that bad.
"I believe that freedom in form results in freedom in the way we live in the space," said Maeiyat, who works as an R&D creative designer. "This freedom brings more opportunity, more attachments and more sense of belonging." 
His proposition earned top marks from a highly regarded panel of judges that included renowned Canadian architects and designers, plus Volvo's head of design Robin Page.
"Tiam envisioned a garage space that seamlessly connects the indoors with the outdoors," said Page. "The design beautifully exemplifies the function, modern Scandinavian aesthetics and sustainable elements seen within the Volvo XC40 Recharge."
As the winner of The New Garage design challenge, Maeiyat will receive a $2,500 cash prize and his vision will be showcased at the 2021 Interior Design Show in Toronto.