This 1967 Chevrolet Corvette Was Just Sold for $3 Million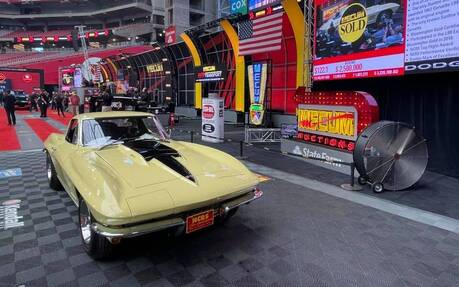 How much do you like the new, eighth-generation Chevrolet Corvette? Do you prefer classic ones? If so, take a look at this rare 1967 Corvette which was recently sold for $2.45 million USD at a Mecum Auctions event in Glendale, Arizona. That's $3.06 million CAD at the current exchange rate.
Why is it so special? Only 20 units were built with the optional L88 upgrade package, which included a 427 cubic-inch (7.0-litre) V8 engine with a reinforced cast-iron block, a Tuftrided forged steel crank and connecting rods, and 12.5:1 forged aluminum pistons.
Officially, output was rated at 430 horsepower, but owners could extract a lot more power from the engine by using higher-octane, race-grade fuel.
The L88 package also added a unique suspension, heavy-duty disc brakes, an M22 Rock Crusher four-speed manual transmission and a heavy-duty cross-flow aluminum radiator.
The model you see here is the only Corvette L88 painted in Sunfire Yellow and it has benefited from a 10-year restoration. It has logged only 560 kilometres since then and has won multiple awards.
Of course, it's not the most expensive Corvette ever sold at an auction. The top 3 are all Corvette L88 models, by the way, led by a coupe that traded hands for $3.85 million USD ($4.8 million CAD) in 2014.
The final copy of the last front-engined Corvette fetched $2.7 million USD ($3.5 million CAD) at a Barrett-Jackson auction in July 2019. Six months later, the same company announced the sale of the first C8 Corvette for ($3.9 million CAD).