2022 BMW Alpina B8 Gran Coupe: Meet Germany's Everest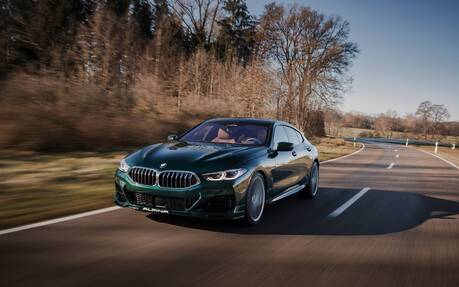 After the BMW 7 Series in 2019 and the X7 in 2020, Alpina is now introducing its own mind-blowing variant of the M8 Gran Coupe, once again raising the bar of performance and styling set by the Bavarian automaker.
Naturally, the twin-turbocharged 4.4-litre V8 is… less powerful? Yep, output is down from 617 horsepower (in M8 Competition trim) to 612 horsepower. However, max torque has increased from 553 to 590 pound-feet, accessible from just 2,000 rpm. While 0-100 km/h times are not specified, we suspect the Alpina B8 Gran Coupe shaves a tenth of a second or two from the regular BMW's 3.2 seconds.
Engineers worked on throttle response and particularly the cooling system for optimum efficiency of the high-performance engine, even under continuous high loads. Meanwhile, the eight-speed sport automatic transmission benefits from Alpina's Switch-Tronic technology enabling ultra-quick and smooth shifts.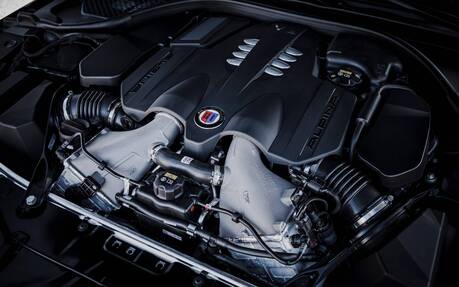 For more intense thrills, the specially developed sport exhaust system features active flaps. You can activate Comfort mode to avoid disturbing the neighbours or select Sport mode to let people from a mile away know how much fun you have. 
Similarly, the adaptive dampers can be set from Comfort+ to Sport+ depending on your driving style of the moment. By the way, countless test miles were completed on Europe's most demanding tracks during the development of the sport suspension system. Stiffer suspension strut support mounts and reinforced sway bars provide greater vehicle stability during dynamic lane changes, for example.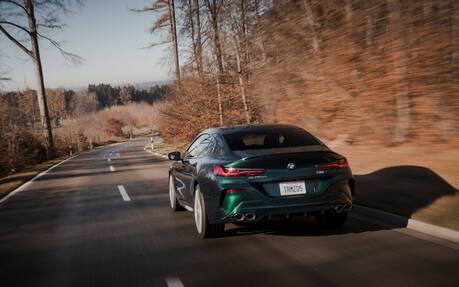 The four-wheel active steering system and xDrive all-wheel drive system have been fine-tuned, as well, resulting in improved handling. This is backed by ultra-high-performance tires (245/35ZR21 front; 285/35ZR21 rear) that were specially developed by Pirelli.
When it comes to styling, the Alpina B8 Gran Coupe stands out with unique aerodynamic modifications including large front air intakes and a subtle rear spoiler. The 21-inch wheels feature the brand's classic design of 20 minimalistic spokes. The two twin tailpipes, finished in polished stainless steel, are elegantly integrated in the rear bumper in typical Alpina fashion. Blue brake callipers bearing white Alpina lettering are another distinctive touch.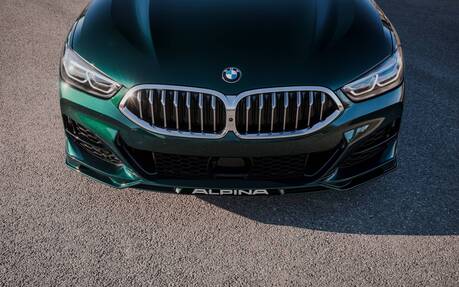 The Alpina Blue Metallic and Alpina Green Metallic paint finishes can't be found on any BMW cars, adding to its exclusivity. Many other body colours are available, mind you.
Inside, look for unique details such as illuminated Alpina door sills, the iDrive controller in crystal glass with a lasered Alpina logo, and exclusive trim. Each Alpina steering wheel is hand-finished with natural, untreated Lavalina leather.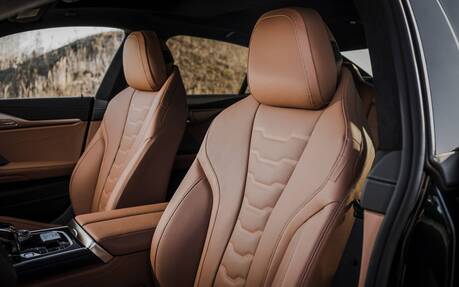 If you want a copy of the 2022 BMW Alpina B8 Gran Coupe, you should know it is due in Canadian showrooms this summer. Pricing will significantly exceed that of the current M8 Gran Coupe, which starts at $158,000.