2021 Buick Envision: Keep Dreaming, GM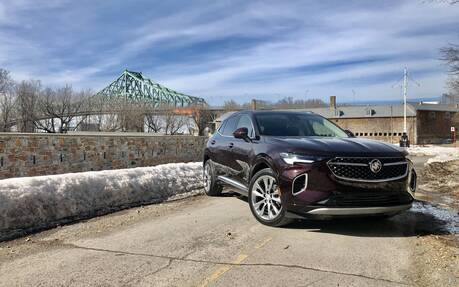 Nearly a year after its debut, the second-generation 2021 Buick Envision is finally on sale in Canada.
Similar to its predecessor introduced in North America back in 2016, this compact luxury SUV slots between the Encore GX and Enclave as Buick's answer to popular models such as the Acura RDX, Audi Q5 and Mercedes-Benz GLC.
We have to say the new Envision looks much better in person than it does in the pictures. Will the fresh design and new tech be enough to lure customers away from the established competitors? Here's what we liked and disliked during our week with the 2021 Buick Envision.
Only One Engine
Under the hood is a turbocharged 2.0-litre four-cylinder engine that used to be optional with the Envision. Now it comes as standard and there is no other engine to choose from. No one will be sad that the naturally aspirated 2.5-litre mill is gone.
The 228 horsepower and 258 pound-feet of torque delivered by the 2.0T are quite satisfying for a vehicle of this size. As for the nine-speed automatic transmission, it doesn't waste time upshifting, which results in good fuel economy.
On our watch, the Envision burned approximately 10 L/100 km in a mix of city and highway driving. Officially, Natural Resources Canada rates the AWD model at 9.5 L/100 km and the FWD model at 8.9 L/100 km.
It would have been nice to see some form of electrification, especially from an automaker like General Motors that has such a bold EV plan going forward, but that's not the case. If you look at the competition, the Envision has nothing to brag about in the powertrain department.
Just the same, driving dynamics have always been, and continue to be, pretty uninspiring. You can still have a good time on the road, but don't look for any kind of thrills. It's just not what this SUV is about.
Envision Avenir
Following in the footsteps of GMC with its Denali sub-brand, Buick launched more upscale versions of the Enclave and LaCrosse in 2018. They're called Avenir, and it's the first time we see that treatment applied to the Envision.
Some of the features we particularly enjoyed are the driver-oriented, 10-inch touchscreen (powered by a user-friendly infotainment system) and the digital rear-view mirror showing an image from a liftgate-mounted camera. It's all very well executed. On the other hand, there's no fully digital instrument cluster behind the steering wheel.
The Buick Envision Avenir starts at $46,648. Below is the Essence trim at $41,648, while the base Preferred trim costs $37,948. Adding AWD requires an extra $2,400, but it's a good investment for winter performance and residual value. Getting rid of a FWD compact luxury SUV is not an easy task.
Where Does Buick Fit?
Buick used to be a brand with a bit of prestige, but those days are now long gone. Positioned somewhere between Chevrolet and Cadillac (though closer to the former), Buick is having a hard time staying relevant in the Canadian market. Things are much better in China. In fact, the Envision was initially developed for China and that's where production takes place.
The new 2021 model finds itself in a curious spot. As a premium compact SUV, it doesn't have what it takes to dethrone the top players. Output is clearly not on the same level as the class-leading RDX and Q5. The Cadillac XT5 is way more powerful, too, especially in V6 configuration.
The only area where the Buick Envision has the edge is pricing. For the same dollars as an entry-level Q5, you can get a near fully loaded Envision Avenir. And because it won't sell like hot cakes, you can expect the automaker to add some sweet incentives sooner rather than later.
For many customers, however, the Envision just doesn't have the same aura of luxury as the aforementioned rivals.
Our Verdict
We wish the 2021 Buick Envision the best of luck in this highly competitive market segment, but the fact of the matter is that it lacks ammunition and desirability. Though not a bad vehicle, the Envision—just like the previous generation—can't realistically do better than B-list status.
People who want prestige, performance and a good residual value will keep shopping elsewhere and understandably so.
Test drive report
Test model

2021 Buick Envision

Trim level
Avenir
Price range
$35,698 – $44,398
Price as tested
44 398 $
Warranty (basic)
4 years/80,000 km
Warranty (powertrain)
6 years/110,000 km
Fuel economy (city/highway/observed)
10,5 / 8,2 / 10,0 L/100km
Options
N/A
Competitive models
2021 Acura RDX, 2021 BMW X3, 2021 Lexus NX, 2021 Audi Q5, 2021 Mercedes-Benz GLC, 2021 Lincoln Corsair
Strong points

Competitive pricing
Decent fuel economy
Well designed interior

Weak points

Lack of prestige
Only one engine

Editor's rating
Fuel economy
The Envision is more efficient than most.
Comfort
We expected more given Buick's reputation, but comfort is still satisfying.
Performance
Performance is decent and that's all we're going to say.
Infotainment
The system is user-friendly and nicely executed.
Driving
Don't look for any kind of thrills. It's just not what this SUV is about.
Overall
Though not a bad vehicle, the Envision lacks desirable features and can't compete with the big guns.