Japanese Firm Snags Caterham, Pledges to Keep Seven Rolling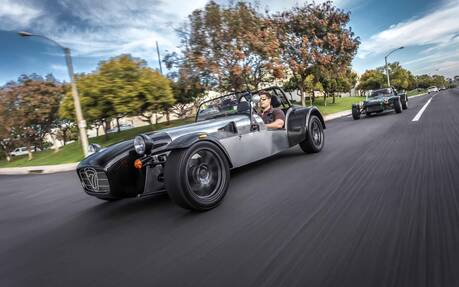 If you're the type to hang out at the racetrack on weekends, you might have spotted a Caterham Seven specimen ripping it out there, looking like a long-nosed, roll-barred bathtub flanked with loud exhaust pipes. These curious, yet impossible to ignore two-seaters pair a unique retro look with newer(ish) technologies and engines.
Today we learned that the British boutique carmaker Caterham was "moving" to Japan, where the topless wide-tired Seven is particularly popular.
VT Holdings, a Japanese company that is also Caterham's biggest member of its distribution network and whose owner is an avid motorsport fan, purchased the brand and related assets. Caterham sells about 120 units of the Seven in Japan annually – which is quite a large amount for that size of an automaker for a single market.
VT Holdings is also involved in the importation of Lotus, Morgan and other small, but very cool automakers. But the firm's bread and butter comes from its 200-dealership network selling Hondas, Nissans, VWs and BMWs across Japan.
The Emblematic Seven
The Caterham Seven is the continuation model of the 1950s-built Lotus Seven. Lapping day rats will tell you that the Caterham Seven is ridiculously fast, but has the habit of occasionally trying to kill its driver.
Otherwise, the Seven comes in eight different flavours, from the humbler 270 model to the very risky 620. It can arrive at your door fully assembled, or in boxes for you to DIY it – depending on the region of the world you live in. And most can also be plated this way.
It can be powered by a range of Ford-based engines carefully prepared to output between 125 horsepower to 315 horsepower sent to the rear wheels using a 5-speed or 6-speed manual gearbox. Some models weigh just over 1000 lb.
Keeping the Heritage Alive
If you think VT Holdings will slap "Cross" after the current Seven name in an effort to ride the reputation by launching a mass-marketed SUV, think again.
Although remaining mum about all the details related to this transaction, VT Holdings CEO Kazuho Takahashi had something quite reassuring to say about the future of the marque: "We have not only purchased a globally renowned performance car manufacturer, but become custodians of a motoring legend. We will protect and develop the Seven to meet the legislative challenges that lie ahead."
On the other hand, with the planet eagerly trying to purge its gasoline cars in the next decades, it would be irresponsible to think that the new entity wouldn't give an honest shot at building an electrified version of the Seven.