This Audi RS6 Truckster Would Make Clark Griswold Madly Proud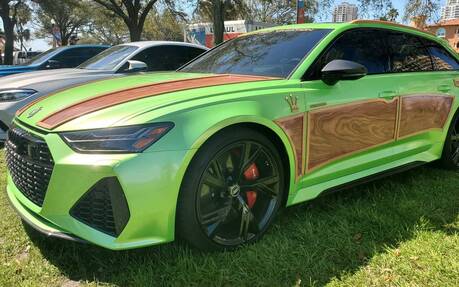 It's not the first time some tuning enthusiast transforms a car into a replica of the iconic Griswold family wagon from the 1983 movie National Lampoon's Vacation. However, this one is certainly one of the most stylish.
While the original Wagon Queen Family Truckster was based on a 1979 Ford LTD Country Squire, here we have a sensational 2021 Audi RS 6 Avant a.k.a. "RS6 Truckster."
The car was spotted at an outdoor show during the Festival of Speed in St. Petersburg, Florida earlier this year.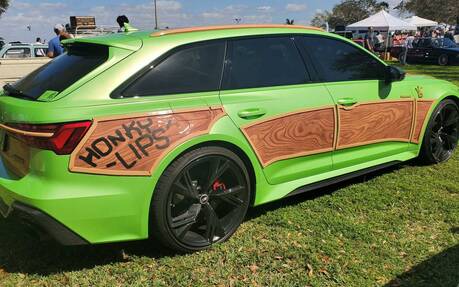 The explosive German luxury wagon sports a slightly less ugly tone of green than the cartoonish automobile from the movie, but the fake wood panelling on the hood, doors and fenders is spot-on. Even the roof rails try to pass as wooden wonders. As for the crown ornament, the creator slammed it on the hood and added duplicates on the front fenders and rear liftgate.
The rest of this Audi RS6 Truckster is pretty much standard RS 6 Avant attire, which is a good thing because nobody would like to see it with a similar combination of eight headlamps. Audi's lighting units are much more attractive, not to mention the wheels.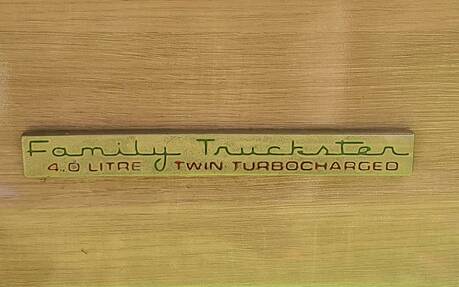 At the rear, there's a custom badge that says "Family Truckster 4.0 Liter Twin Turbocharged," a friendly reminder that a twin-turbo 4.0-litre V8 engine producing 591 horsepower and 590 pound-feet of torque lies under the body.
Just imagine if Clark Griswold had gotten his hands on this wicked beast.
Watch: Gabriel Gélinas test drives the Audi RS 6 Avant