2021 Toyota Sienna: Tested and Approved By the Whole Family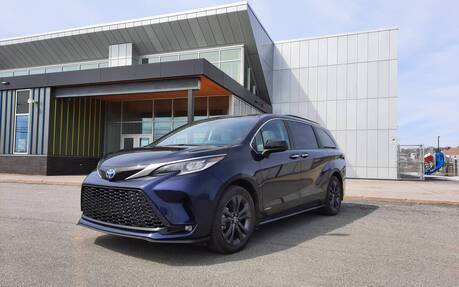 Are minivans still the best family vehicle you can buy? The SUV craze suggests otherwise, but the fact of the matter is that nothing is more spacious, practical and convenient for a large family.
Toyota, which resurrected the Venza wagon in the form of a midsize SUV, simultaneously introduced a completely redesigned Sienna for 2021, with a focus on design and technology plus a hybrid-only powertrain strategy.
Unlike my colleague Germain Goyer who previously shared his impressions of the new Sienna, I'm a father of two (not counting the dog!) and I thought it would be enlightening to involve the whole family in this test drive.
Let me end the suspense right here by saying we were highly impressed by Toyota's next-generation minivan.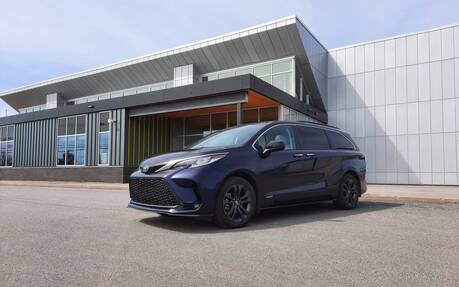 Remarkable Evolution
In the conservative world of minivans, the old Sienna managed to last an entire decade without any major changes. For the new model, Toyota designers wanted to make a big leap forward, which is why they drew inspiration from Japan's Shinkansen bullet trains. Some will say it looks more like a spaceship, but regardless the 2021 Sienna makes a pretty bold statement.
For sure, it's still a minivan, but not too many dads will be ashamed of being seen at the wheel of the Sienna. I know I wasn't. One neighbour of mine, who owns a Volkswagen Atlas, only had good words about the looks and proportions. The gaping front grille and strong character line on the sides emphasize its muscular, aggressive appearance. The 20-inch wheels and black accents on our XSE tester made it that much cooler.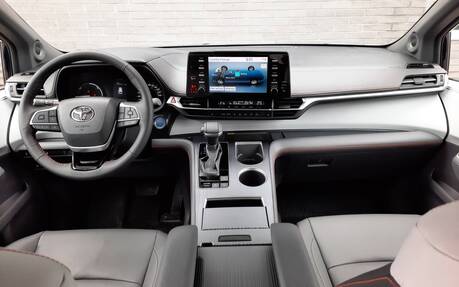 Inside, we're light-years away from the previous model. The layout is very attractive and all the modern features families desire are included. Obviously, the seven USB ports and two 120V power outlets are greatly appreciated by everyone. Same thing for the nine-inch centre touchscreen with Android Auto and Apple CarPlay compatibility. The graphics are pretty dull, mind you. In this segment, the benchmark for infotainment is clearly the Chrysler Pacifica with the new Uconnect 5 system.
As for the optional-but-highly-recommended rear-seat entertainment system, the Blu-Ray player and SD card reader have been replaced by an HDMI port, as well as wireless DLNA or Miracast connectivity. So, you need to either plug in your own player or laptop, or stream movies from your mobile device. It's an adjustment, but you'll get used to it.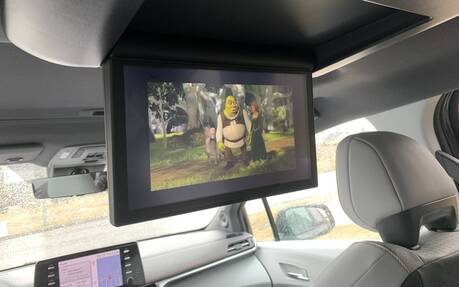 On the road
As mentioned at the top, the 2021 Toyota Sienna comes exclusively with a hybrid powertrain. Do we miss the 296-horsepower V6? Not really. Even though the combination of the 2.5-litre four-cylinder engine with the electric motor is limited to 245 horsepower, the readily available torque ensures nice acceleration and makes city driving pleasant. You can easily switch between Eco, Normal and Sport (!) modes anytime you want, but the CVT that replaces the conventional automatic transmission takes some fun away during long sprints.
Now, due to COVID-19 restrictions, we couldn't bring more people inside. Will the new gas-electric Sienna fare just as well with eight passengers and a loaded trunk? We'll find out later, but I'm not too worried. After all, Toyota engineers managed to preserve its maximum cargo capacity of 3,500 pounds.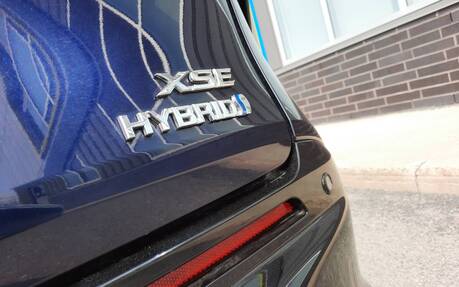 By the way, some models add a second electric motor for an AWD setup. Remember, the Sienna used to be the only minivan available with AWD. The 2021 Pacifica now offers that option, though not with the plug-in hybrid variant.
The new Sienna is not a plug-in hybrid, so EV range is limited to extremely short distances and lower speeds. Still, average fuel consumption is down from 11 L/100 km in 2020 to just 6.5 L/100 km in 2021 according to Natural Resources Canada. In real-world conditions, expect a slightly higher number. At the end of our weeklong drive, which mostly took place around town with temperatures ranging from about 0-10 degrees, the computer read 8 L/100 km. And yet Eco mode was engaged most of the time.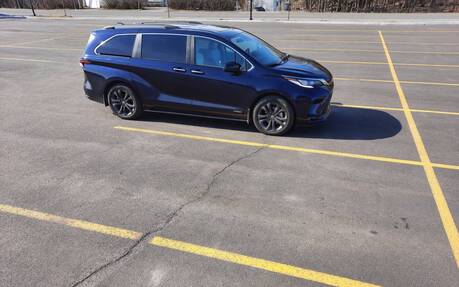 What The Rest of the Family Thinks
Before I share with you the comments of my wife and kids, you must know that pricing for the 2021 Toyota Sienna (MSRP from $39,990) has not increased a whole lot beyond the elimination of the base CE model. That means you get a much more modern, more attractive and better equipped minivan at a reasonable price while saving a significant amount of money at the pump.
- Patricia, the mom:
"I love the smooth, comfortable ride. Visibility is great, especially when looking down the sides. We counted 16 cup holders and there's plenty of storage throughout. I particularly like the huge space under the centre console; it's perfect for my purse.
The power liftgate is convenient but doesn't go up very high, so people who are taller than me (5'5'') probably need to watch their head. As for the third-row seats, they are quite easy to fold into the floor (Note: they were made lighter for 2021 and actually require three times less force to manipulate)."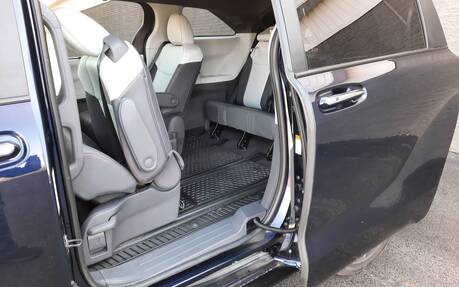 - Rose, 12:
"There's everything you want in here. It's like a tiny house. You can plug in devices anywhere. With the middle seats that slide back and forth (Note: over a distance of nearly 75 centimetres), I can stretch my legs as much as I can no matter where I sit. My dad tells me the most luxurious model even has captain's chairs with legrests. That must be awesome!"
- Julia, 10:
"The power doors open automatically if I just pull the handle or do a kick motion under the car. I like that. Inside, it's like a big cavern. The seats are comfortable and it's cool to watch movies with the wireless headphones."
Both of my daughters said the same thing at the end of the week: the 2021 Toyota Sienna is the three-row vehicle they liked the most among all the ones their dad has brought home for testing, including the Toyota Highlander and the Kia Telluride, the latter a Car Guide's Best Buy for 2021… just like the Sienna.
Test drive report
Test model

2021 Toyota Sienna

Trim level
XSE FWD 7 Seats
Price range
$39,990 – $58,190
Price as tested
51 190 $
Warranty (basic)
3 years/60,000 km
Warranty (powertrain)
5 years/100,000 km
Fuel economy (city/highway/observed)
6,6 / 6,5 / 8,0 L/100km
Options
Technology Package ($5,500)
Competitive models
2021 Honda Odyssey, 2022 Kia Carnival, 2021 Chrysler Pacifica, 2021 Chrysler Grand Caravan
Strong points

Fantastically modern inside and out
Great hybrid powertrain (with available AWD)
Comfortable seats and smooth ride

Weak points

More expensive than some rivals
A few technology issues
Some interior noises

Editor's rating
Fuel economy
Officially, 6.5 L/100 km. In the real world, expect a slightly higher figure.
Comfort
Comfortable seats, a ton of space and a smooth ride make for a winning combination.
Performance
The new hybrid system beautifully replaces the V6 and max towing capacity doesn't change. It's no bullet train, however.
Infotainment
Une The interface is vastly improved but not the segment's best.évolution ici, mais il y a quand même plus attrayant et convivial ailleurs.
Driving
Driving is more pleasant now. The Honda Odyssey needs to watch out
Overall
The bold and sophisticated 2021 Sienna makes SUVs less attractive. Family trips are wonderful.