2022 Mazda MX-30 Set to Launch in Quebec, B.C. This Fall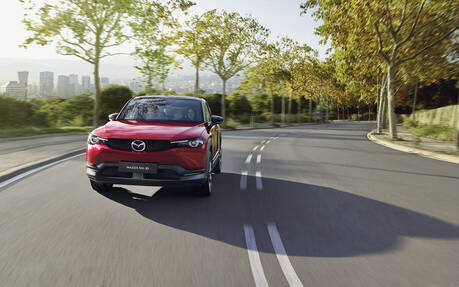 As promised, the all-new, all-electric Mazda MX-30 will go on sale in Canada later this year, more specifically in the fall. It will initially be available at dealerships in Quebec and British Columbia only.
About the same size as the CX-30, this small SUV kicks off Mazda's electrification efforts while offering the fun driving dynamics the brand is known for.
A single motor is featured, sending 107 kilowatts (144 horsepower) to the front wheels along with 200 pound-feet of torque. Forget about all-wheel drive; the MX-30 is mainly designed for city driving.
That's because the high-voltage battery has a capacity of 35.5 kWh, enabling a range of just 200 kilometres or so. The exact figure as determined by Natural Resources Canada will be announced later. Same thing for pricing.
Said battery can be charged from 20% to 80% within approximately 36 minutes using DC fast charging (50 kW). Customers will have special access to ChargePoint locations, though details on this partnership have yet to be specified.
Electrified Kodo
The exterior of the MX-30 marks the first application of Mazda's Kodo design language on an electric vehicle. It stands out with a flattened grille (which is obviously closed since there's no combustion engine under the hood) and a contrasting roof. The side doors open in opposite directions to create a large opening.
Inside, Mazda fans will feel right at home with the centre display atop the dashboard, but the MX-30 innovates with a "floating" console removed from the centre armrest and capped by a seven-inch display for HVAC control.
There are also two-tone fabric seats and cork inserts, the latter an eco-friendly touch that also pays homage to Mazda's origin as a cork manufacturing company more than 100 years ago.
Wait For the Rest
Though it didn't say when exactly, Mazda Canada confirmed the upcoming addition of a plug-in hybrid variant of the MX-30. In a system similar to that of the late Chevrolet Volt, the gasoline engine will replenish the battery rather than drive the wheels, maximizing range in the process.
This PHEV model will mark the return of Mazda's unique rotary engine technology following a nearly 10-year hiatus. It was last seen on the RX-8 coupe.
Mazda also has plans for a PHEV based on its new large vehicle platform, and a traditional hybrid crossover to be built in the U.S. with Toyota technology.