Audi A6 e-tron Concept Makes Global Debut in Shanghai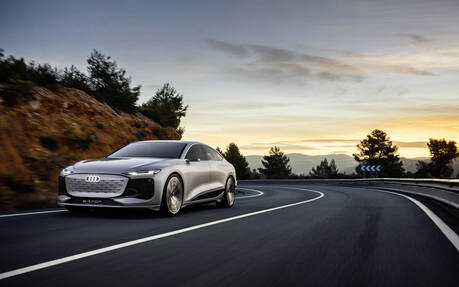 The 2021 Shanghai Auto Show marks the world premiere of the new Audi A6 e-tron Concept, which signals the launch of a production model in 2022.
The A6 e-tron sedan is based on the new Premium Platform Electric (PPE) architecture, which will also underpin the upcoming Q6 e-tron SUV as well as other future Audi and Porsche models.
Sportback Styling
For this new car, Audi designers focused on a Sportback configuration with a swooping roofline. The oversized wheels and muscular fenders hint at the electric AWD system, while the sculpted lower bodysides evoke the 100-kWh battery positioned within the floor.
Similar to the freshly introduced e-tron GT and RS e-tron GT, the Singleframe grille has a unique look specific to Audi's new EVs. Meanwhile, the headlights consist of three rows of LED units and fully programmable.
Projectors built into all four corners of the A6 e-tron Concept duplicate turn signals on the ground so that pedestrians and other road users know what the car is up to. In the rear, a wide strip of OLEDs with 3D animation serve as taillights.
Aerodynamics are always a key part of electric vehicles to maximize range. The A6 e-tron Concept boasts an exceptionally low drag coefficient of 0.22 thanks to a wind-slicing silhouette and variable ride height, the latter the result of an air suspension system that can lower the car at highway speeds. Also, cameras replace the side mirrors, though the production model will likely feature conventional mirrors in order to comply with Canadian safety regulations.
Audi designer Sascha Heyde says 95 percent of the concept will wind up on the road. Expect to see door handles, too.
About PPE
Jointly developed by Audi and Porsche, the PPE architecture is reserved for luxury electric vehicles. A modular design means it can be adapted to sedans, coupes and SUVs of all shapes and sizes.  
As mentioned earlier, Audi will use it to build the Q6 e-tron SUV, which will actually hit the market before the A6 e-tron sometime in 2022. The sedan will be available globally in RWD and AWD variants, the former providing more than 700 kilometres of range as calculated using the WLTP test cycle in Europe. A high-performance RS 6 e-tron model with sharper styling will inevitably follow.
Speaking of which, the A6 e-tron Concept is powered by two electric motors that combine to generate 350 kilowatts, or 469 horsepower, as well as 590 pound-feet of torque. Fast charging makes it possible to add approximately 300 kilometres of range in just 10 minutes, Audi claims.
Oh, and if you're wondering about the conventionally powered A6, don't worry, it won't disappear anytime soon.