2021 Toyota 4Runner Trail: Lovably Outdated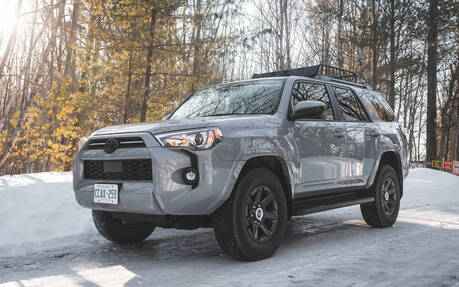 While it certainly looks old-fashioned on paper compared to its rivals, the 4Runner has a solid reputation, along with the dynamite resale value that comes with it. The current iteration of this rugged-faced SUV has been on the road for 10 years running with very minor physical and mechanical changes, making it one of the few body-on-frame SUVs still available.
This configuration is more commonly used by pickup trucks, but also 4x4 staples in the business like the Jeep Wrangler and the Ford Bronco. Newer SUVs use modern monocoque chassis nowadays, but let's face it, body-on-frame still comes with its share of uniqueness and bragging rights.
We took the 2021 4Runner's base Trail model for a good, long drive. Here are our impressions.
Simple Interior
Climb on board the 2021 Toyota 4Runner and don't be ashamed to feel on top of the world. The upright driving position and great visibility are some of the qualities we're looking for in a 4x4.
While accessible and relatively easy to use, the infotainment screen's resolution and features resemble that of an old Game Boy console.The rest of the dashboard is also as analogue as analogue can be. But the 4Runner still made an effort to keep up with the times in terms of technology. The Trail version we tested came with appointments like Apple CarPlay and Android Auto, as well as basic active safety systems.
The Softex seats are a bit disappointing comfort-wise, and aren't fitted with heating in this particular variant. This feature has become standard fare even in the most value-oriented offerings in the segment, and the rest of the auto industry.
Otherwise, passenger space is on point, with plenty of leg and head room no matter where you're sitting, combined with acceptable cargo space in the rear. Lodged in the back of our 4Runner Trail tester was a Toyota-branded cooler, great for keeping snacks and juice boxes chilled at soccer practice.
Fun to Drive, in Its Own Way
Under the hood of the Toyota 4Runner Trail, you'll find a 4.0-litres naturally aspirated V6 mated to a 5-speed automatic gearbox dishing out 270 horsepower and 278 lb-ft of torque. While this powerplant is sufficient to pull the Toyota 4Runner around with enough giddy up, it guzzles quite a bit of gas. While on a trip from Montreal to Toronto, the average fuel consumption hovered around 12.8 L/100 km - that's exclusively on the highway.
Beyond the obsolete nuts and bolts, the 2021 Toyota 4Runner is, in my opinion, quite fun to drive. The good ol' 4X4 selection knob geared with 2WD, 4HI and 4LO functions, the proper ground clearance, suspension and tires all make you feel invincible on the trail or in a deep snowbank. But the V6 also boasts plenty of low-end torque to make accelerating this big hunk of metal an enjoyable experience in the city. The steering is also on point, with the amount of feedback you would expect from this size of vehicle.  
On the highway, however, is where the 4Runner doesn't belong. The wind noise inside the cabin is nothing short of deafening and the ride comfort is limited. The Dynamic Radar Cruise Control could use some adjustment in terms of smoothness - it's jerky and difficult to modulate. But by now, I think the general public is aware that smoothness isn't the 4Runner's middle name.
Conclusion and Side Story
Buying a Toyota 4Runner is kind of an "emorational" purchase. On the one hand, it's expensive considering what you're getting in terms of tech and comforts. On the other, it's really pretty, looks tough as heck and can get you in and out of the trail unscathed. Plus, its solid resale value and the fact that it's a Toyota somehow successfully makes its purchase rational.
During our week with the 4Runner Trail, we received a message from a reader that was interested in purchasing one. So we asked him to tell us more about his needs and preferences. He was family man with two daughters who does a lot of travelling between Quebec and New Brunswick. He was on a budget, but loved technology and needed some level of comfort… so basically unchecking every box that has anything to do with the 4Runner. We recommended looking at other products within the Toyota catalogue, but also with other manufacturers for better-equipped, more suitable products for his family's needs.
A week later, the reader sent us a picture of his brand new 4Runner, mentioning that he had carefully considered our advice, but persisted that he always wanted a 4Runner. He also mentioned he was able to sell the idea to his wife because it has a good resale value and…is a Toyota!
This is the embodiment of "emorational."
Test drive report
Test model

2021 Toyota 4Runner

Trim level
Trail
Price range
$46,200 – $62,430
Price as tested
CA$46,200
Warranty (basic)
3 years/60,000 km
Warranty (powertrain)
5 years/100,000 km
Fuel economy (city/highway/observed)
14.8 / 12.5 / N/A L/100km
Options
N/A
Competitive models
Ford Bronco, Jeep Wrangler
Strong points

Awesome looks
Great off-road capabilities
Very roomy

Weak points

Obsolete technologies
Thirsty powertrain
Choppy ride on the highway

Editor's rating
Fuel economy
The V6 is really thirsty in all situations
Comfort
Leather seating is much better than the Softex
Performance
The V6 engine does a good job
Infotainment
The screen and functionalities could use a good update
Driving
The 4Runner provides a fun truck-like experience if you stay off the highway
Overall
It looks great and is capable, but there are many options in this segment