2022 Honda Civic: How to Reinvent the Wheel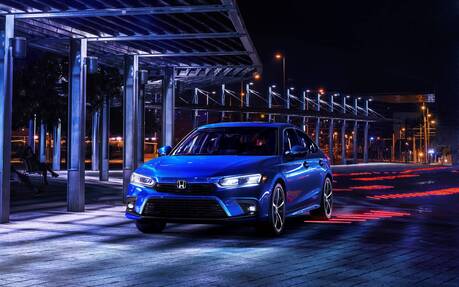 Being named Canada's favourite car for 23 straight years is something to be proud of. And the Honda Civic has achieved this triumph with great success. However, this bestseller has needed to reinvent itself from time to time, which is not as easy as it seems.
On the one hand, creating a product that is totally unexpected could jeopardize your existing customer base, while being even slightly too prudent and conservative could cause you to lose your lead, as nobody can afford a stale product. Combine this with the fact that competition comes from all sides these days in the automotive industry. You are not only competing with other automakers, but also from within your own brand due to crossovers.
The 11th generation Civic receives a new design, a few more horses, and some new technologies. Honda hopes these enhancements are potent enough to keep its top spot.
In order to scrutinize every angle of the new Civic's purpose and future, we had a fruitful chat with Hayato Mori, the AVP of Product Planning and Business Development at Honda Canada.
New Design and Added Power
Any vigilant eye will notice that the Civic has matured. However, the latest model of the beloved compact car also gives a nod to past generations with a more classic look than the outgoing generation, which could have been seen as more edgy.
"Yes, the 2022 Honda Civic does borrow traits from previous generations. It reminds me of the Civics from the early 90s. While the outgoing generation was looked at as more extreme by some, this new Civic is more premium-looking and sophisticated," confirmed Hayato Mori.
"We always try to make the Civic fun for the driver, which includes maximum visibility, but the ideal shape of that isn't necessarily all about style. We gave [the vehicle] refined assets like a longer hood to balance space and visibility with sportiness."
Underneath its exterior, the new Civic also received modifications to its chassis and overall body rigidity, making it stiffer and more capable of withstanding crashes, especially the notoriously brutal and surprisingly common oblique impact.
This added stiffness also benefits driving dynamics, making the Civic more capable in terms of handling. Two birds, one stone!
The Civic's top 1.5-litre four-cylinder, turbocharged engine got a bump in horsepower and torque, ranking in at 180 horsepower and 177 lb-ft of torque, which is up 6 hp and 15 lb.-ft. of torque from last year's model.
Mori also stipulated that the continuously variable transmission had to be recalibrated to provide better accelerations on the standard 2.0-litre engine, for which the fuel economy has also been improved.
What about the racing/enthusiast community?
The Touring model, which hosts the more powerful engine isn't exactly what the enthusiast community raves about. In the brave new automotive world of SUV practicality and the race fuel economy, this specific group of people, who can't necessarily afford a brand-new Type R, sometimes feel left aside.
However, Hayato Mori reiterated that the new generation Civic (namely the new Si and hatchback models) will cater to enthusiasts as it always has.
"With an available manual gearbox in the five-door Civic and as the sole option in the Si, I think performance enthusiasts will be excited about the overall performance aspects of the 2022 Civic."
In a world full of crossovers, will the Civic remain relevant for years to come?
"We know that Canadian drivers are practical. They want a car that caters to their lifestyle. Civic does this for many different lifestyles," said Hayato Mori, when asked about the Civic's immense popularity in Canada.
However, crossovers are basically symbols of practicality. While the question about the purpose and future of the actual car has been asked, examined, and debated continuously within the industry in past years, bending a manufacturer's ear is always enriching.
"I think there will never be a time where there are no more cars. Not everyone needs an SUV. For drivers that want the best package for overall drivability, you still can't beat a car. The lower stance and centre of gravity is great for handling and the Civic's human-centric packaging allows plenty of room for passengers and cargo," concluded Mori.
What's going on in the electric department?
Ending an interview with a question about the "electric future" has become a no-brainer in the last few years (except if the subject of said interview is an EV, of course).
Honda has remained closed-lipped about the electric future of the Civic or any vehicle in Honda Canada's lineup, for that matter.
But the enthusiast in us is always a bit anxious about driving dynamics and how models known for their sporty characteristics could lose some of their "engaging character" during their pilgrimage over to the electric side.
With that said, Hayato Mori has been somewhat reassuring on the matter. "You'll have to wait just a little longer to see a fully electric vehicle powered by Honda in Canada. Any Honda-made vehicle, whether it is powered by an internal combustion, electric, or hybrid engine will always have Honda characteristics. It's those Honda qualities and uniqueness that consumers expect from our brand."