2022 Honda Civic Production is Officially Underway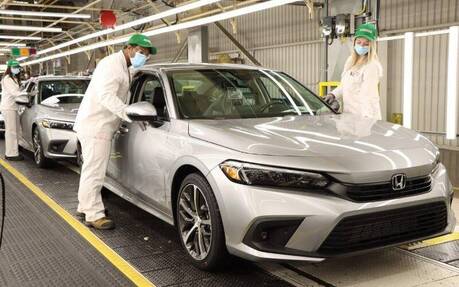 The Honda Civic is the best-selling passenger car in Canada for 23 straight years and the arrival of the 11th generation for 2022, which debuted just a few days ago, is major news.
Today, the company announced that production of the new Civic Sedan has officially started at its Alliston, Ontario assembly plant. The first units will land in dealerships this summer.
In case you didn't know, Honda Canada has been building the Civic Sedan continuously for 33 years—longer than any other Honda plant in the world currently producing the Civic.
As for the Civic Hatchback, whose 2022 redesign will be shown later this year, production is moving from the U.K. to Honda's Greensburg, Indiana factory.
Similar to the previous generation, Honda expects the new Civic to be especially popular among first-time buyers, young drivers and multicultural customers. Paradoxically, styling is more mature and conservative than before, while prices have significantly increased. While the cheapest 2016 Civic cost just over $16,000 in Canada, the 2022 Civic Sedan should start at around $24,000.
Honda will announce full pricing details closer to launch this summer, so keep following The Car Guide to learn more.
Quick facts about 2022 Civic Sedan production:
Using extensive application of structural adhesive, Honda created the most rigid body ever for the Civic;
The Civic-first laser-brazed roof employs a technology that joins the roof to the body side panels for a seamless exterior appearance and an even stronger vehicle body;
For the first time, Honda is applying spray foam to hollow portions of the body structure, resulting in the quietest Civic in history;
Extensive use of aluminum, including an aluminum hood (another Civic Sedan first), helps enhance fuel efficiency;
The new soft and seamless instrument panel surface required an entirely new production process, but it eliminates visual clutter and potential distractions for drivers;
Honda Canada also builds the 2.0-litre four-cylinder engine which produces 158 horsepower, while Honda's Anna Engine Plant in Ohio builds the turbocharged 1.5-litre four-cylinder that's now rated at 180 horsepower.
Watch: 2022 Honda Civic Sedan Makes Official Debut