Toyota
Corolla Cross

Gets Closer to Landing in Canada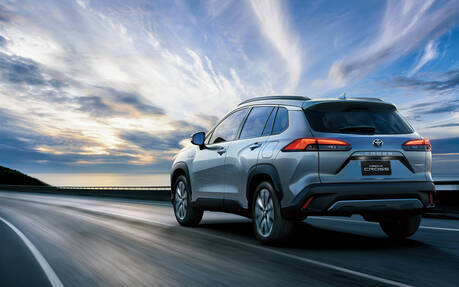 Unveiled in Thailand last summer, the all-new Toyota Corolla Cross is a model that has many people intrigued on this side of the planet. At a time when SUVs and crossovers are all the rage, the Japanese automaker has yet to offer North American customers something that would fill the gap between the FWD-only C-HR and the best-selling RAV4.
It looks like that will change pretty soon, though. Spy photographers have recently caught a camouflaged Corolla Cross being tested on U.S. roads.
This likely confirms the identity of the new utility vehicle Toyota said it wants to build at an equally new joint assembly plant with Mazda in Huntsville, Alabama starting this year. Rumour has it that production would begin in September for the 2022 model year.
Despite the name, the Corolla Cross has little in common with the Corolla we already know—a bit like the Ford Mustang versus the Mustang Mach-E. Sure, the TNGA-C architecture is the same, but the design is unique, starting with the large, rugged-looking front grille that is more in line with Toyota's other SUVs. The lower body and wheel arches feature black plastic cladding for a more rugged appearance.
In terms of size, the Corolla Cross stands approximately 4.45 metres long, 1.83 metre wide and 1.62 metre tall, making it a tad bigger than the C-HR although the wheelbase is identical (2.64 metres). Cargo capacity is rated at 487 litres using Asian-market specifications, but it's reasonable to assume the trunk is slightly roomier than that of our C-HR (538 litres).
In Thailand, the vehicle is motivated by a four-cylinder engine that delivers 140 horsepower and 129 pound-feet of torque, which is pretty much what we're used to with small SUVs sold here. AWD is optional. There's also a hybrid variant, but we're less sure about that one.
One last thing: names like Corolla Cross or Yaris Cross are common overseas but not here, so look for Toyota to re-brand the model for North America. An official announcement could take place in the coming weeks, so keep following The Car Guide as usual.