2021 Chevrolet Suburban Duramax: The Dream Bus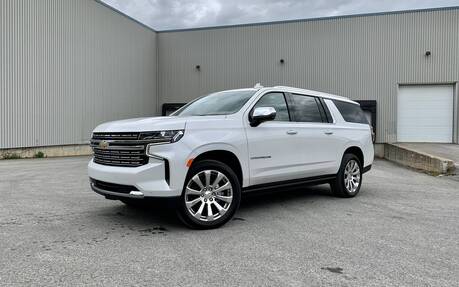 This year is critically important for General Motors. You see, all of the automaker's full-size, body-on-frame SUVs have been completely redesigned, from the Chevrolet Tahoe and Suburban to the GMC Yukon and Cadillac Escalade.
These vehicles are real money makers for GM in North America. After testing the big Caddy earlier this year, our expectations were pretty high going into this test drive of the 2021 Suburban Duramax. Amazingly, it did not disappoint one bit.
Torque to Spare
The addition of a diesel option is major news for the Chevrolet Suburban. With the move to a new generation, GM chose to offer the same 3.0-litre inline six-cylinder Duramax that you'll find in the Silverado 1500.
While output is a fairly modest 277 horsepower, peak torque amounts to 460 pound-feet. Watching this engine go to work is quite impressive. Who needs a gasoline V8, really? A 10-speed automatic transmission is standard across the line.
All-wheel drive is basically a must nowadays, but in order to get it you have to spend an extra $3,000 approximately.
Extremely Efficient
The new Suburban wows with majectic looks, as well as high levels of comfort and refinement, but fuel economy is even higher. At the end of our 550-kilometre trip, the display had a reading of 9.4 L/100 km.
How good is this? According to Natural Resources Canada, the much smaller, gas-burning Volkswagen Tiguan achieves a combined 9.9 L/100 km when equipped with AWD. Another reminder that diesel is king when it comes to strength and efficiency.
Remarkably Comfortable and Quiet
One of GM's priorities when developing its next-generation full-size SUVs was to increase comfort. It feels so good to sit in the 2021 Chevrolet Suburban that you'll want to find excuses not to get out. Despite the body-on-frame construction, the ride is so much more comfortable than a comparable pickup.
The engineers have done an excellent job of making the cabin quieter, too. Diesel engines are typically noisy, but that sure is not the case with the Duramax lying under the hood of the Suburban. You can hardly hear it working.
In the rear, access to the second- and third-row seats is almost effortless. And if you fold them all down you get unmatched cargo space. As a longer version of the Tahoe, the Suburban offers more room for luggage behind the third row. Meanwhile, pulling capacity is rated at 8,000 pounds with the available towing package, so anything's possible when it comes to family fun.
Hefty Price
The biggest downside with the 2021 Chevrolet Suburban is the price, which is not within the reach of most people. The base LS FWD model starts at $62,348, while the top-line High Country model costs over $86,000. But wait, if you check all the various boxes, you'll be looking at a bill that's well into six figures. Our Premier Duramax tester was priced at $96,528.
Incidentally, the Duramax option available on LS, LT, RST and Premier models adds $2,000. In High Country trim, the price is the same whether you choose the 6.2-litre gasoline V8 or the six-cylinder diesel.
Sadly, the Duramax can't be specified with the rugged Z71 package, because there's not enough space to fit the intercooler and some of the other components required by the diesel due to the different-looking front end. Let's hope GM finds a way to fix that in the future.
Bottom Line
In this day and age of "greener is better," many people see the big Chevy Suburban as a monster from the past. For some, though, it continues to fill a need. For others, it's simply what they want. Now with the Duramax engine, you can get the best of both worlds—performance and fuel economy.
Test drive report
Test model

2021 Chevrolet Suburban

Trim level
Premier
Price range
$60,048 – $96,528
Price as tested
96 528 $
Warranty (basic)
3 years/60,000 km
Warranty (powertrain)
5 years/100,000 km
Fuel economy (city/highway/observed)
15,3 / 12,4 / 9,4 L/100km
Options
N/A
Competitive models
2021 Ford Expedition, 2021 Toyota Sequoia, 2021 Nissan Armada, 2021 Chevrolet Tahoe
Strong points

Impressive torque
Outstanding fuel economy
Majestic looks
Remarkable comfort

Weak points

Hefty price
Duramax can't be had with Z71 package
Limited availability at the moment

Editor's rating
Fuel economy
Hard to ask for more.
Comfort
Comfort is just remarkable.
Performance
The Duramax delivers impressive torque.
Infotainment
The system is very intuitive.
Driving
Generous comfort and torque make for a pleasant driving experience.
Overall
The Duramax-powered Suburban is immensely satisfying. You might need to wait a long time to get yours, though.