Toyota Supra From "Fast and Furious" Goes to Auction Once Again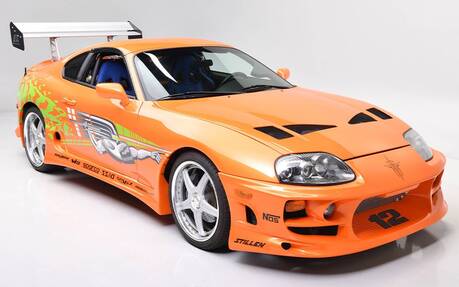 The upcoming Barrett-Jackson auction in Las Vegas (June 17-19, 2021) will most certainly lure fans of the Fast and Furious movies. That's because the famous 1994 Toyota Supra driven by the late Paul Walker a.k.a. Brian O'Conner will be up for sale.
We're not talking about some sort of replica like the ones we see from time to time. Rather, it's the actual stunt car that was used for multiple interior and exterior shots during the filming of 2001's The Fast and the Furious and 2003's 2 Fast 2 Furious, according to the extensive documentation that accompanies the car and a Certificate of Authenticity.
As Barrett-Jackson notes, this Supra was built by The Shark Shop in El Segundo, California for the first movie, then brought back and modified by the original builder for its role as "Slap Jack's Supra" in the sequel. It later returned to its original form with the iconic Lamborghini Diablo Candy Orange pearl paint and Troy Lee-designed "Nuclear Gladiator" motif along the side.
The exterior also features a Bomex front spoiler and side skirts, APR aluminum biplane rear wing, and 19-inch Dazz Motorsport Racing Hart M5 Tuner wheels. Under the hood, there's nowhere near the power claimed in the movie. In real life, this example houses a turbocharged 3.0-litre inline six-cylinder engine rated at 220 horsepower and mated to a four-speed automatic transmission.
The car is listed as a no-reserve sale, but given its legendary status (it's the "10-second car" that helped forge Brian and Dominic Toretto's relationship) and Paul Walker's tragic death, we bet it will fetch a whole lot of money.
At a Mecum Auctions event in May 2015, the same Supra was sold for $185,000 USD (approximately $225,000 CAD).