2021 Subaru Forester: Practical, But Stuck in the Middle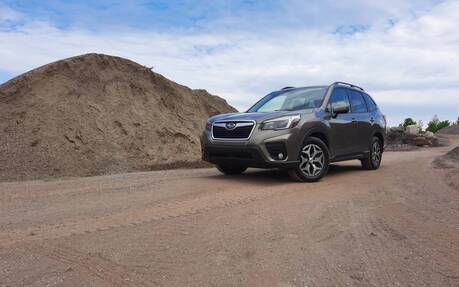 The Subaru Forester is still one of the Japanese automaker's most popular vehicles, but as far as compact SUVs go it's the second worst-selling model in Canada, ahead of the Mitsubishi Outlander which is transitioning to a new generation for 2022.
The problem is fierce competition not only from other brands but also within the Subaru lineup. The not-so-small Crosstrek is the new king of the family and the spacious Outback also manages to sell more units. Stuck between those two (our colleague Antoine Joubert coined the term Crossback), how can the Forester stand out and stay relevant? We recently put one to the test to hopefully find some answers.
What's New for 2021?
The Subaru Forester builds on its excellent visibility and safety attributes for 2021. High Beam Assist and steering-responsive LED headlights, which were previously available on select models, now come standard. A good decision.
A rear seatbelt reminder is another addition to all Foresters (an audio and visual warning will alert the driver if a passenger has not buckled up), while a heated steering wheel is also now standard on Touring and Sport trims.
Elsewhere, the Forester Limited gets the innovative DriverFocus distraction mitigation system and an eight-way power front passenger seat, both of which were previously only available on the fully loaded Premier model.
Blending in
The Subaru Forester is one of the most conservative, down-to-earth vehicles in its class and maybe the entire industry. It always has that same silhouette and a pretty uninspiring colour selection (except for Carmin Red, but when was the last time you saw a bright red Forester on the road?). At least we have the headlights and taillights to tell it apart from the previous generation. The Crosstrek is both racier-looking and more colourful, while the latest Outback is a bit more aggressive.
Clearly, design is not why people buy a Forester. Inside, the layout is very similar to the Crosstrek's. Bonus points for the larger (though not panoramic) sunroof. Fit and finish is good, and we particularly like the superb integration of the main display (6.5 or 8 inches depending on the trim level).
Most of the controls are properly positioned, there's plenty of information at your disposal, and the infotainment system is fairly easy to use. On the other hand, if you add the smaller screen at the top of the centre stack and the one between the gauges, that makes three separate displays to keep an eye on while driving—not the ideal setup.
Exemplary Versatility and Utility
The thing we like the most about the Subaru Forester versus its numerous competitors is the versatility and utility. It starts with 220 mm of ground clearance for confident driving on most terrains. The raised roof rails come in handy, for sure, while the large glass area is second to none.
The driving position is adequate, with pedals and a foot rest big enough to accommodate all sizes of shoes. We can't really complain about the seats in terms of access, comfort or support, although we suspect portly fellows will wish for more seat padding. Legroom and headroom is very generous front and rear. Four adults can sit inside the Forester without any problem.
Another highlight is the cargo area. First of all, the hatch opening is large and makes loading big items easy. There are eight tie-downs and hooks to secure cargo, while the compartment under the floor is spacious enough to store a number of tools or some emergency kit material (even though that's where you access the spare tire).
The 60/40-split rear seats are easy to manipulate (a 40/20/40 split would have been preferable) and they increase cargo capacity up to 2,104 litres. Bring on Costco runs and camping trips!
One Efficient Powertrain
The current-generation Subaru Forester relies exclusively on a naturally aspirated 2.5-litre four-cylinder engine producing 182 horsepower and 176 pound-feet of torque. That engine is also available now in the smaller Crosstrek, by the way. It does an adequate job in most situations, and the CVT it's mated to is nicely calibrated to make the vehicle feel lively at lower revs. Also, fuel consumption is remarkably low for an AWD-equipped SUV—combined 8.2 L/100 km according to Natural Resources Canada, 8.4 L/100 km on our watch.
On the other hand, there's no higher-output engine, meaning those who want better performance or towing capacity (which is limited to 1,500 pounds) have to shop elsewhere. Subaru needs to wake up soon and add the turbocharged 2.4-litre engine (260 horsepower, 277 pound-feet) that the Outback and Ascent are blessed with. On a side note, the Sport mode included in the SI-Drive system only makes a real difference if you opt for the Forester Sport model.
On-road driving dynamics are decent in spite of a light and not-so-responsive steering system. Dirt roads, trails and rocky terrain are the Forester's favourite playground. Its full-time, symmetrical AWD system is hands down one of the best, backed by a highly effective X-MODE function with hill descent control.
We put the Forester to the test through the woods and at a local quarry where it felt quite at ease, though the Bridgestone Ecopia tires unsurprisingly lack bite. The upcoming Forester Wilderness, just like the 2022 Outback Wilderness, should take things to the next level with all-terrain tires, skid plates, improved approach and departure angles, a 180-degree front camera and more.
Our Verdict
As we wait for this more adventurous model, we must say the 2021 Subaru Forester is a good purchase based on its versatility, all-road prowess, comprehensive safety arsenal (EyeSight comes standard across the line) and above-average durability. In fact, when it comes to compact SUVs, we at The Car Guide ranked the Forester just below the Toyota RAV4 in our Best Buy awards. Sadly, it's too conservative from a design and mechanical standpoint to attract a large number of customers and catch up with rivals on the sales chart.
Test drive report
Test model

2021 Subaru Forester

Trim level
Tourisme
Price range
$28,995 – $40,095
Price as tested
34 395 $
Warranty (basic)
3 years/60,000 km
Warranty (powertrain)
5 years/100,000 km
Fuel economy (city/highway/observed)
9,0 / 7,2 / 8,4 L/100km
Options
N/A
Competitive models
2021 Chevrolet Equinox, 2021 Ford Escape, 2022 Hyundai Tucson, 2021 Honda CR-V, 2021 Jeep Cherokee, 2021 Nissan Rogue, 2021 Mazda CX-5, 2022 Mitsubishi Outlander, 2021 Toyota RAV4
Strong points

Excellent AWD with X-MODE function
Unbeatable visibility and versatility
Great fuel economy

Weak points

Same old silhouette
2.5L engine quickly shows its limits
Steering lacks feedback

Editor's rating
Fuel economy
Fuel consumption is remarkably low for an AWD-equipped SUV. No hybrid variant, though.
Comfort
We can't really complain about the seats. Ride quality is decent.
Performance
While lively at lower revs, the 2.5L engine quickly shows its limits.
Infotainment
The infotainment system is fairly easy to use and the screen is beautifully integrated. We could do without the smaller screen up top, though.
Driving
This rating mostly comes from its driving dynamics and potential off pavement.
Overall
A highly versatile and practical SUV, but design and performance are underwhelming.