Forget the Tesla
Model S

Plaid+, Elon Musk Says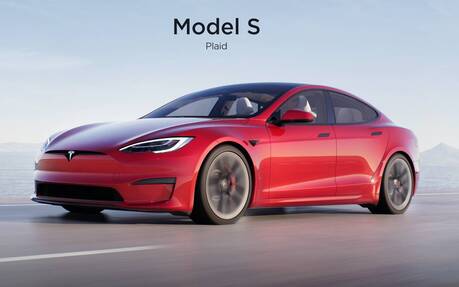 Earlier this year, Tesla announced a major update to the Model S sedan and Model X crossover including the addition of two high-performance variants called Plaid and Plaid+.
In the company's latest twist, the Plaid+ has been nixed already. Tesla CEO Elon Musk confirmed the news via Twitter on Sunday.
Plaid+ is canceled. No need, as Plaid is just so good.

— Elon Musk (@elonmusk) June 6, 2021
Each of these models featured a tri-motor setup and over 1,000 horsepower. The Model S Plaid can achieve 0-100 km/h in 2.1 seconds, the quarter-mile in 9.23 seconds (a record for production vehicles not named Rimac Nevera) and a top speed of 322 km/h. It also offers an estimated range of 628 kilometres.
A hair quicker from a standstill, the Plaid+ promised a range of more than 835 kilometres. It was due to arrive in mid-2022 at just under $200,000 CAD, but it's no longer possible to pre-order a unit on Tesla's website.
As for the Model S Plaid (MSRP from $159,990 CAD), following production delays caused by some last-minute adjustments, deliveries in the U.S. will begin this week. Canadian customers will have to wait at least until August or September according to the online configurator.
For ultimate performance, don't forget that the Tesla Roadster is coming (pictured above). Musk said that Tesla could release a driveable model by the end of this summer, with sales to start next year.
The numbers are mind-boggling—or ludicrous as the company likes to say. An optional "SpaceX Package" would reportedly add cold-gas thrusters behind the licence plate, allowing the Tesla Roadster to reach 100 km/h in about 1.1 seconds. Want to know what that looks like? Check out this simulation.