Oops, Here's the 2022 Toyota Tundra Before You're Supposed to See It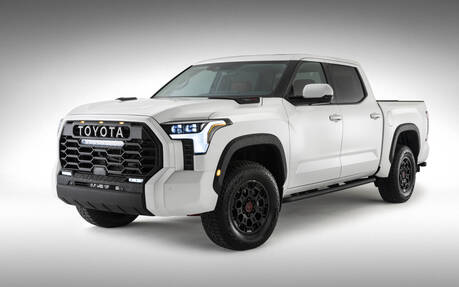 UPDATE - 06/19/2021 : Due to the leaked images, Toyota has decided to share a first official picture of the new Tundra (above). Below is the original story.
The next-generation 2022 Toyota Tundra is coming soon. The exact date for the official debut has yet to be announced, but the automaker teased the model exactly a month ago with a shot of the front lights.
Can't wait? You're in luck as one of the Toyota dealers in the U.S. leaked a few images and details that were picked up by the Tundras.com forum, giving us a good look at the redesigned full-size truck. This is apparently a pre-production unit, but the final result should be virtually identical.
What you're seeing here is a TRD Pro model as evidenced by the branding on the rear tailgate. Sporting an aggressive stance, this 2022 Tundra boasts a massive black-trimmed grille with LED accent lights plus a more muscular body than its predecessor.
The headlights and wheels have a new look, as well. There are various black elements around the body, including on the hood and fenders, and either tubular running boards or rock sliders on the sides. We don't see any tow hooks from these pictures, but they could be added later.
The dealer at the source of the leak also confirmed that one of the two new available powertrains on the 2022 Toyota Tundra is a twin-turbo V6—likely the 3.5-litre engine featured in the new Land Cruiser. Let's wait for the exact performance figures, but peak torque could be just short of 500 pound-feet. A 10-speed automatic transmission is coming, too.
A few days ago, Toyota shared a picture to announce a new generation of iForce engines called "iForce Max." Could it be this one or is it rather the second, yet-to-be-confirmed powertrain that will reportedly use hybrid technology?
We'll find out for sure by late summer when the 2022 Toyota Tundra is expected to make its debut. Production is slated to start in the fall, once again in San Antonio, Texas—also the home of the next-gen Sequoia.