High-powered Hyundai Elantra N Teased Once Again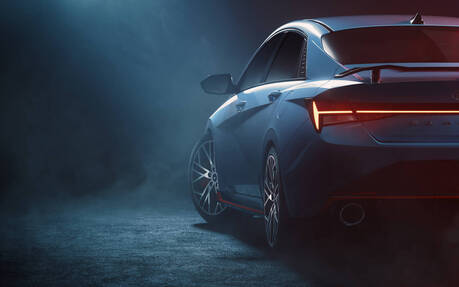 As promised, the next-generation Hyundai Elantra lineup is about to expand further with the addition of a high-performance variant, the Elantra N. The automaker has released another teaser following the camouflaged sedan we saw last November.
In case you need a refresher, seven new N and N Line models will be part of the Hyundai family by 2022.
Hot on the heels of the Kona N that debuted in April, the new Elantra N stands out with unique wheels, brakes, tailpipes and rear spoiler, among other things. As the latest pictures show, it also features bright red N dedicated side sills that emphasize the lowered chassis.
"We designed it to be a race proven sports car with dynamic driving capabilities and style that performance enthusiasts love," said Till Wartenberg, Vice President of N brand Management & Motorsport sub-division at Hyundai.
As for the engine, the Elantra N will be a major departure from the standard Elantra and the Elantra Hybrid, of course. It will also be a pretty big step up from the 201-horsepower Elantra N Line. All signs point to this racier and more explosive version housing a 2.5-litre turbo mill rated at around 275 horsepower.  
Hyundai will reveal more details about the Elantra N in the coming weeks, with the global premiere taking place online. Stay tuned.
Watch: First Look at the 2021 Hyundai Elantra N Line