Yes, You Can Have a Yoke in Your Tesla
Model 3

or Y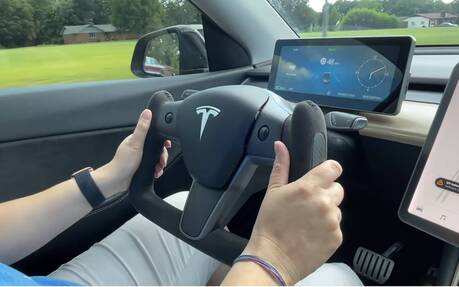 One of the most talked-about new features of the freshly updated Tesla Model S and Model X is definitely the available yoke-style steering wheel. While U.S. regulators are still trying to determine whether it's street-legal or not, the early reviews from customers are a mixed bag.
Will it eventually land in other vehicles? As we wait to find out, an aftermarket company based in China can ship you one for your Model 3 or Model Y.
This replica of Tesla's controversial steering wheel comes from Hansshow. In the following video, we see an example that's partially wrapped in Alcantara and trimmed with real carbon fibre in some places.
The steering wheel uses a Model 3 or Model Y hub for a perfect fit. The owner in the video even added a digital screen in front of the steering wheel to emulate the interface of the new Model S.
One of the benefits of the yoke is that it cleans up the driver's field of vision. The wider, flatter base also serves as a handrest. On the flip side, manipulating the oddly shaped steering wheel requires some adjustments, like when you need to do a 90-degree or sharper turn. The man who posted the video says he got used to it in less than a week.
And how much does it cost? Prices range from $1,099-$1,259 USD depending on the materials you choose, which means around $1,500 CAD plus installation if you don't want to perform the switch yourself.