Mississauga Speed Enforcement Cameras Fully Functional July 5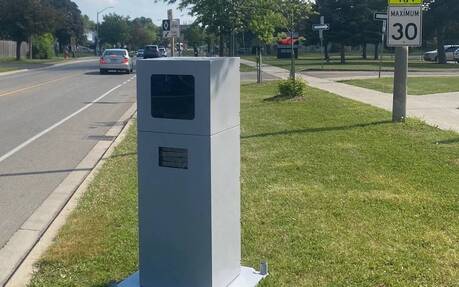 Mississauga's first Automated Speed Enforcement (ASE) cameras (or speed cameras, as we hate to call them) will go live soon. The city is giving the population a two-week notice before the unmanned contraptions start shooting speeding motorists and printing out tickets.
However, signs were installed on the locations in question back in early April. The first one is on Morning Star Drive (between Lancaster Avenue and Netherwood Road) and the second one is on Sawmill Valley Drive (between Folkway Drive and Grosvenor Place).
Speeding has proven to be a problem in these newly-designated 30-kilometres per hour 'school area community safety zones' and having constant surveillance will encourage drivers to behave, and perhaps respect the speed limit.
City officials have also detailed the process behind ASE: "When a vehicle exceeds the posted speed limit in an ASE area, the ASE system captures an image. Then, a provincial offences officer reviews the image and issues a ticket."
Drivers are then fined according to the speed, and comes with a digital copy of the image and an enlargement of the licence plate.
Since the ASE can't tell who is actually driving, the ticket is issued to the owner of the vehicle with no demerit points.
While speeding cameras might look like "traps", motorists must always keep in mind that the best way to defeat them is to match the number on the speedometer with the one on the sign!
On May 19, the Mississauga City Council approved 20 additional locations in 2021. Cameras will rotate to new locations on a monthly basis. According to documents released by the city, the next four locations are:
Mississauga Valley Boulevard between Voltarie Crescent and Silver Creek Boulevard (Ward 4)
Whitehorn Avenue between Weir Chase and Pickwick Drive (Ward 6)
Cedar Creek Drive between Runningbrook Drive and Lexicon Drive (Ward 3)
Old Derry Road between Second Line West and Gooderham Estate Boulevard (Ward 11)