Ferrari 296 GTB is Your New V6-powered Hybrid Italian Sports Car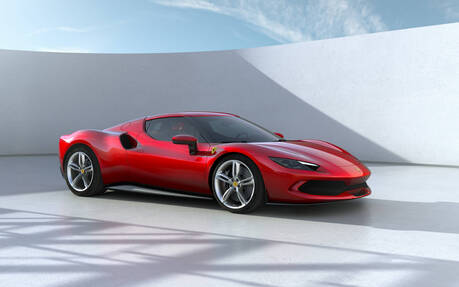 As promised, Ferrari is introducing a new hybrid sports car… with a V6 engine. More powerful than the F8 Tributo and Roma, the 296 GTB will join the lineup as the baby brother to the SF90 Stradale and a direct threat to the equally new McLaren Artura.
Obviously, it's the first time a Ferrari road car uses a six-cylinder engine, unless you include Dino 206 and 246 from the late 1960s and early 1970s. Two turbochargers are nestled within the 120-degree V6.
Total system output is 819 horsepower at 8,000 rpm (with a redline at 8,500 rpm), while peak torque amounts to 546 pound-feet at 6,250 rpm. An eight-speed dual-clutch transmission sends power to the rear wheels only. Look for 0-100 km/h acceleration in 2.9 seconds, 0-200 km/h sprints in 7.3 seconds and a top speed of over 330 km/h.
The other half of the powertrain is an electric motor located between the V6 and transmission, and mated to a 7.45-kWh battery. The Ferrari 296 GTB is a plug-in hybrid with a zero-emission range of 25 kilometres based on Europe's WLTP standard, but expect even less than that in North America.
As for styling, this new car borrows some design cues from both the F8 Tributo and SF90 Stradale. The wheelbase is about 5 centimetres shorter than that of the former. The interior is clean and features fully digital displays.
By the way, Ferrari is also offering a high-performance variant called Assetto Fiorano (the grey and yellow model on the pictures). This one gets carbon fibre trim along with various aerodynamic aids and saves up to 15 kilograms. The suspension is upgraded with the same type of Multimatic dampers found on the Ford GT.
The Ferrari 296 GTB will go on sale in Europe starting in the first quarter of 2022 before spreading to other markets.