2022 Genesis GV70 : Goal Leader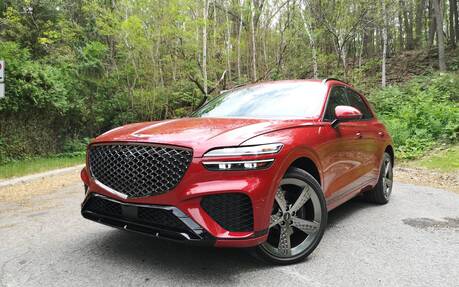 We had been impatiently waiting to drive the Genesis GV70. Not only because the first glance we got at the unveiling was very convincing, but also because it is set to compete in the extremely popular luxury compact SUV segment.
Plus, there's the fact that it comes from a company that started with a catalogue solely composed of sedans, which leads us to believe that engineers haven't entirely forgotten about driving dynamics, a characteristic that every luxury vehicle automaker tries to infuse into their SUVs, some with more success than others.
If Genesis played its cards right, the GV70 has a great chance to be the volume seller the brand needs.
The Car Guide recently took the 2022 Genesis GV70 for a drive. Here are our first impressions.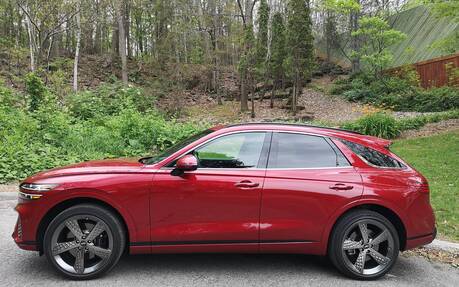 Creatively Stylish Inside and Out
Generally, we try to stay away from the exterior style impressions because everyone has different tastes, and these characteristics rarely impact driving. However, we sometimes indulge in an exception and the GV70 falls in that category. Our 3.5T Sport Plus version has a gorgeous esthetics with fluid lines that stand out from what the competition is doing, and Genesis has perfectly adapted the look of its sedans to this small SUV. While some might not like the huge grille in the front, the rear part is truly well done.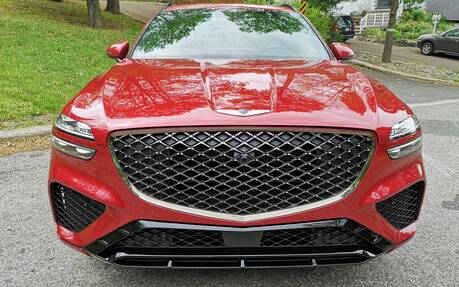 Genesis is also shaking things up inside the GV70. We couldn't help but notice that there's come kind of "googie" thing going on; the dashboard and other trim features hint at Space Age design elements which are symbolic of motion. This is a major shift away from the generic and coldish designs we've been accustomed to in this particular segment.
The seating is comfortable and provides plenty of support. However, the driver position proved to be a bit too high, and the downward inclination of the instrument cluster accentuates this feeling.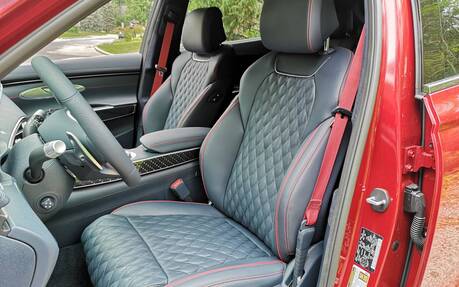 The cluster in question is a fully digital unit. It's very classy, and it features a 3D projection in the Sport Plus Trim, which is fitted with infrared sensors to track your eyes so that it maintains its appearance no matter your viewing angle. Frankly, it kind of played with our vision during testing. A few clicks later in the vehicle's settings and we were able to make it flat, which was the setting we preferred.
Another gadget on the list is the biometric sensor next to the steering wheel. No, it doesn't let you start the GV70, but it will let you make changes to your driver profile and unlock Valet mode.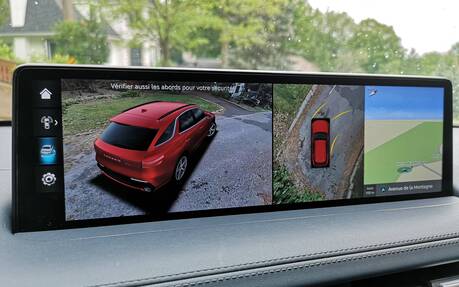 The 14.5-inch infotainment screen is elegantly perched atop the dashboard. Although it as tactile capabilities, it is too far from the driver's reach to operate with your fingers, so you must resort to using the rotary dial in the centre column. This can take some getting used to, as the Genesis' infotainment interface isn't the most complicated, but not the most intuitive either.
Overall, the interior is incredibly well assembled without being pretentious or over the top.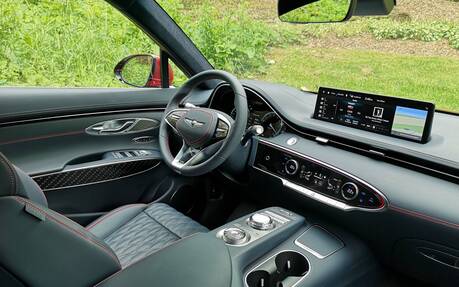 Two Well-Adapted Powertrains
The GV70 gives buyers a choice of two competitive powertrains. The first one is a 2.5-litre four-cylinder turbocharged unit that outputs 300 horsepower and 311 lb-ft of torque. The more powerful option is a 3.5-litre turbocharged V6 which churns out 375 horsepower and 391 lb-ft of torque. Both come fitted with an eight-speed automatic transmission and standard all wheel drive on all trims, along with a series of driving modes.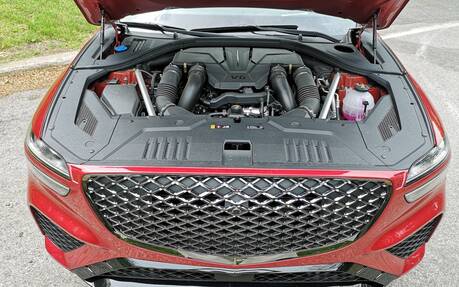 Our 3.5T Sport Plus delivered more than up to par accelerations during our test-drive. But expect a small delay when ramming the accelerator pedal before the GV70 reacts and gets its act together. The Sport and Sport Plus greatly reduce this slight annoyance. When at high speed on the freeway, the V6-equipped GV70 deploys optimal pickups when passing – which is very reassuring. The base 2.5-litre turbocharged engine wasn't tested, but we expect it to supply sufficient performance considering the horsepower and especially the torque rating.
The GV70 offers driving dynamics of its own, a flavour that stands apart from what you will find in the segment. The steering isn't too nervous or alert, but greatly precise. Vigorously manoeuvre the GV70 and it will reward you with a good balance of ride comfort with and handling. Sport and Sport Plus modes give an incredibly direct steering feel for more precision, and the GV70 will give up a bit of the comfort to charge ahead with maximum traction and minimum body roll.  Our Sport Plus variant was fitted with an electronic limited slip differential which can send 100% of the torque to one rear wheel.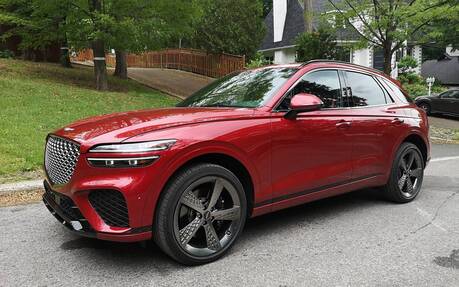 Like other Genesis products, the GV70 comes loaded with equipment, even in its base form. That gives it an edge over the competition, which loves to charge for basic stuff in the segment.
For example, the base Select trims which will run you $49,000 is fitted with wireless charging, heated steering wheel, the 14.5-inch infotainment screen and a slew of active safety gear that would commonly be optional on popular German rivals. What's really more enticing is that like other Genesis products, the GV70 won't cost you a dime in service for 5 years/100 000 km, another blow to the German competition which are generally notoriously costly to maintain.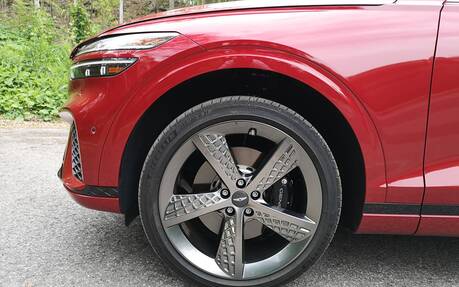 With unique style, driving dynamics and interior design, the Genesis GV70 brings something mightily fresh to a segment where rivals are piling up aggressive styling features, costly options and generic driving dynamics that are becoming increasingly bland. Every team needs a goal leader, and the GV70 is bound to be Genesis' star offensive player moving ahead.
Test drive report
Test model

2022 Genesis GV70

Trim level
VUS 3.5 Sport Plus AWD
Price range
$49,000 – $75,500
Price as tested
N/A
Warranty (basic)
N/A
Warranty (powertrain)
N/A
Fuel economy (city/highway/observed)
N/A
Options
N/A
Competitive models
Acura RDX, Alfa Romeo Stelvio, Audi Q3, BMW X3, BMW X4, Buick Envision, Cadillac XT5, Infiniti QX50, Infiniti QX55, Jaguar F-PACE, Land Rover Discovery Sport, Lexus NX, Lincoln Corsair, Mercedes-Benz GLC, Porsche Macan, Volvo XC60
Strong points

Advanced driving dynamics
Superb exterior and interior styling
Enticing warranty

Weak points

Elevated driving position
Hard-to-reach infotainment screen

Editor's rating
Fuel economy
Adequate combined fuel consumption rating.
Comfort
The GV70 has confortable seating and provides a confortable ride.
Performance
Plenty of power from the turbocharged V6 engine.
Infotainment
Infotainments screen is large, but hard to reach.
Driving
The GV70 offers unique driving dynamics.
Overall
This Genesis GV70 is a great product overall.