2022 Subaru Outback Wilderness: The Best Outback Ever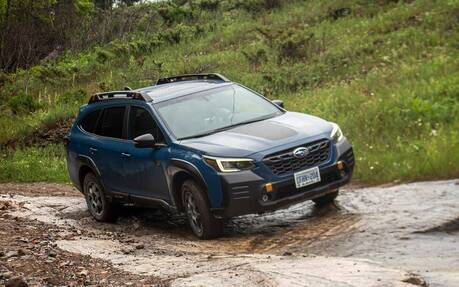 Many outdoor enthusiasts turn to Subaru and we know why: the Japanese automaker has one of the best all-wheel drive systems on the planet, which seems to please adventure-minded drivers and their families.
Yet, for some reason, Subaru long hesitated to come to market with a dedicated off-roader and a more serious alternative to Jeep SUVs. There is one now—meet the all-new 2022 Subaru Outback Wilderness.
Priced from just over $41,000, this mid-range model slots below the more expensive Limited XT and Premier XT. It boasts a number of upgrades that make it possible to tackle more challenging terrain, such as a beefed-up and raised suspension, underbody skid plates, a new differential with superior torque-vectoring capability, 225/65R17 all-terrain tires, revised CVT programing and more.
More Rugged Looks
The Subaru Outback has always had the look of a rugged wagon. With body cladding and practical roof rails, it comes across as a vehicle that's ready for any task or adventure. The Wilderness variant cranks it up a few notches. Overall, the styling changes are nice and purposeful. It would have been easy for designers to go over the top, but that's not the case.
Inside, other than a few golden accents that provide a distinctive touch, it's pretty much the same Outback interior. The big, tablet-style touchscreen in the middle has sharp graphics, but the system could be more intuitive to use as far as we're concerned. There's generous space and comfort up front. However, the rear seats feel a bit tight in terms of legroom. Considering the size of the vehicle, we expected more.
It's No Wrangler
Subaru is the first to admit that the Outback Wilderness isn't trying to compete with the likes of the Jeep Wrangler. The idea was simply to build a comfortable and flexible crossover that could confidently take Subaru customers to new locations. Mission accomplished.
All the upgrades listed above make the Wilderness a better Outback. It proves more compliant and more spirited at the same time, as if the newly tuned CVT and differential could somehow extract more power from the turbocharged 2.4-litre engine. For the record, output is unchanged at 260 horsepower and 277 pound-feet of torque, but you could easily be fooled.
Off the road, the Outback Wilderness handles quite nicely. Depending on the situation, you can alter the parameters of the AWD system using the available Snow/Sand and Deep Snow/Mud driving modes.
Increased ground clearance allows this rugged Outback to clear impressively sized obstacles. In fact, the only limiting factor is the choice of tires. While decent for the most part, the Yokohama Geolander A/T all-terrain tires are not in the same league as the Firestone A/T2 and BFGoodrich T/A KO2. Of course, the trade-off with these two is a louder, not so smooth ride on paved roads. The Yokohamas strike a more perfect balance between on-road comfort and off-road capability. If you want better performance, you can still turn to aftermarket tires.
Our Verdict
Today's cars and wagons, or what's left of them, are getting increasingly low and streamlined. Subaru, on the other hand, has just done the exact opposite and the result is the best Outback ever built. Beautifully comfortable yet athletic and extremely versatile, the Wilderness is now the go-to model in the lineup, even if you're not a big off-road enthusiast.
Test drive report
Test model

2022 Subaru Outback

Trim level
Wilderness
Price range
$31,195 – $44,195
Price as tested
41 995 $
Warranty (basic)
3 years/60,000 km
Warranty (powertrain)
5 years/100,000 km
Fuel economy (city/highway/observed)
10,9 / 8,9 / N/A L/100km
Options
N/A
Competitive models
2021 Honda Passport, 2021 Toyota 4Runner, 2021 Toyota Venza, 2021 Chevrolet Blazer, 2021 Ford Edge, 2021 Jeep Grand Cherokee, 2021 Nissan Murano, 2021 Volkswagen Atlas, 2021 GMC Acadia
Strong points

Rugged looks
Excellent suspension
Highly flexible engine
Smart upgrades

Weak points

Expensive
Infotainment system could be improved
A good driving position is hard to find
Rear seats are a bit tight

Editor's rating
Fuel economy
Not too bad considering the power on tap.
Comfort
Believe it or not, this model is even more comfortable than other Outbacks.
Performance
While not outrageously powerful, the turbo engine delivers pleasant acceleration.
Infotainment
The interface is nice, but the system could be more intuitive to use.
Driving
The charming Outback Wilderness is equally comfortable and fun to drive.
Overall
Here's a crossover that excels on the road and in the trails.