Hyundai Elantra N Arrives With Mean Looks and 276 Horsepower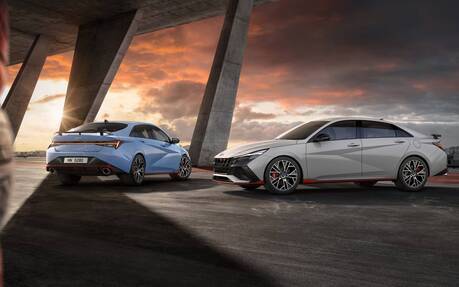 Hyundai has finally unveiled the all-new 2022 Elantra N sports sedan that completes the N brand lineup of performance vehicles.
A whole lot racier and sportier than the base Elantra and its N Line variant, this car uses pretty much the same recipe as the hot Kona N crossover that debuted in late April.
Boasting 0-100 km/h acceleration as quick as 5.3 seconds, the Hyundai Elantra N features a turbocharged 2.0-litre four-cylinder engine that delivers 276 horsepower and 289 pound-feet of torque along with an eight-speed wet dual-clutch transmission. The latter comes with three unique functions:
N Power Shift (NPS) engages when accelerating with more than 90 percent throttle, mitigating any reduction in torque during upshifts.
N Grin Shift (NGS) boosts power for 20 seconds. It's as easy as pushing a button on the steering wheel, and a countdown begins on the instrument cluster showing the remaining seconds for this function. 
N Track Sense Shift (NTS) optimizes adaptive shift for racetrack driving so you can focus more on steering. Sensors detect when the conditions are optimal and activate the function automatically.
A so-called N Corner Carving Differential (Hyundai's way of calling the electronic limited-slip differential), Variable Exhaust Valve System and Launch Control are included, as well. Unfortunately, no manual gearbox has been announced yet.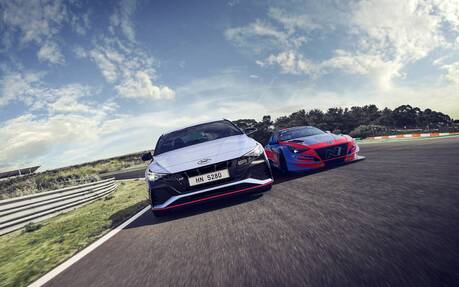 For the first time ever in a Hyundai, the Elantra N applies an integrated drive axle (IDA), inspired by technology used in WRC rally cars. By integrating drive shaft, wheel hub and bearing, the car is lighter and better able to withstand extreme lateral g-force.
Elsewhere, Hyundai N engineers installed large 360-millimetre discs and high-friction pads while going to great lengths to optimize brake cooling. They also applied for the first time a dual-compound insulator to the front suspension. This, together with the dual-compound trailing arm bush, is said to achieve optimal performance in ride and handling as well as noise, vibration and harshness.
We mentioned the Variable Exhaust Valve System earlier, and that's great if you like 'pop' and 'bang' sounds, but you should know there's also a virtual engine sound called N Sound Equalizer that drivers can adjust based on their preferences. This will please some people and likely annoy quite a few purists.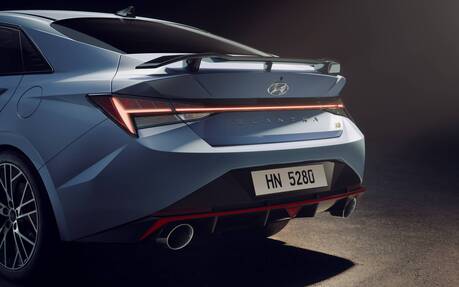 Mean Looks
The Hyundai Elantra N is the first N vehicle to use 245-size Michelin Pilot Sport 4S tires on 19-inch wheels as standard. And apparently, the super-aggressive front end look takes inspiration from "the battle-ready appearance of a driver's race helmet."
The N-exclusive red strip on the front lip spoiler continues on the side skirts and rear diffuser, the latter punctuated by two large exhaust tips. The black contrasting rear wing that elevates from the trunk lid catches the attention, too.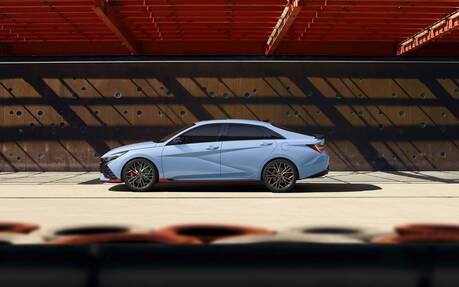 Inside, it's quite a contrast with the regular Elantra thanks to N racing seats and N sport steering wheel. Clearly, this hot sedan means business. The shifter, pedals and door sills also bear the signature of Hyundai's performance brand.
Same thing for the infotainment system, which displays N-exclusive menus and graphics. As for the instrument cluster in front of the driver, key information needed for high-performance track driving, such as oil and coolant temperatures, torque and turbo pressure, is displayed in numbers. A lap timer completes the package.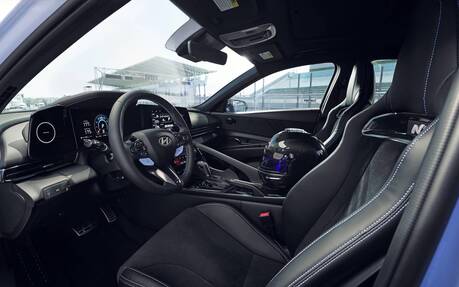 Hyundai is telling us there will be some differences for the North American-spec Elantra N, and these will be detailed on August 19 at the New York Auto Show. Stay tuned.