2021 Toyota Corolla Apex: Not the Sporty Corolla We're Hoping For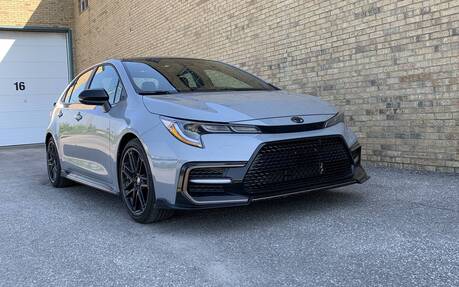 Let's be honest, the Toyota Corolla no longer deserves the slow and boring car tag that keeps sticking to it since like forever—not with the latest generation based on the automaker's TNGA-C platform. Yes, you can have some fun behind the wheel of this Japanese compact that's historically known for its comfort, fuel economy and stellar reliability.
For 2021, Toyota went a step further by launching the Corolla Apex Edition, a car designed as a head-turning, corner-carving, affordable solution for sporty sedan enthusiasts. Is it any good? Well, Toyota's effort for sure is a solid one, but as the title of this review suggests, it's not the sporty Corolla we have on our minds. Keep reading to find out what we mean.
The Raciest Corolla
It's hard to find a racier or more attractive Corolla than this one. Based on the SE model, the Apex Edition adds a couple more layers of—dare we say it—sexiness than the XSE or Nightshade Edition. It's just too bad you can't have it in a hatchback body style and production is limited to a mere 150 units for all of Canada.
The many black-finished elements—grille, roof, badges, 18-inch wheels, mirror caps, front lip spoiler (watch out when parking in front of a curb or entering a driveway that's a bit too steep), side skirts, rear wing and fake diffuser—beautifully contrast with the Apex-exclusive Cement Grey body. The bronze accents at both ends and along the rocker panels are an additional touch that's tastefully executed.
Engineers spent time and energy incorporating a specially developed catback-style exhaust system with a unique 3.5-inch stainless steel tip to produce a throatier, aggressive tone, but why no dual tips? As it stands, the rear end of the car looks incomplete. Upon closer inspection, it would have been easy to add a second tailpipe exiting on the left side.
Another bummer can be found inside. While there are nice amenities such as a leather-wrapped (non-heated) steering wheel, power sunroof and wireless charging pad for smartphones, the seats are upholstered in (sport) fabric and manually adjustable only—no leather option or power adjustments are available for a more comfortable and optimum driving position.
Sticky But Super-stiff
Thanks to unique solid stabilizer bars with increased rigidity, specially tuned shocks with internal rebound springs and stiffer coil springs that lower the car by 0.6 inches (15.2 mm), handling is vastly improved. This Corolla feels surefooted and stays nearly flat in corners. Body movements are superbly controlled including in braking manoeuvres. This is backed by a newly calibrated steering system that's really not too shabby for a sport-oriented sedan.
Toyota says it developed the dynamic characteristics through extensive testing on different tracks around the world, including TMC Higashi-Fuji Proving Ground in Japan, Toyota Arizona Proving Ground and MotorSport Ranch in Texas. That's great, no doubt, but Canadian roads can be quite rough and bumpy. It didn't take long for us to realize that the Apex Edition suffers from an excessively stiff and un-Corolla-like ride at times.
We probably wouldn't care about that if performance was outstanding, but alas that's not the case. The engine is the same 2.0-litre four-cylinder that powers the Corolla SE, generating 169 horsepower and 151 pound-feet of torque. It can be mated to a six-speed manual gearbox, which is good, but only in 50 of the aforementioned 150 units. The rest feature a continuously variable transmission.
While it simulates 10 gears and offers paddle shifters on the steering wheel, the CVT is certainly not the best choice, here—except if you care less about fun driving than fuel consumption, which drops from 7.4 L/100 km to 6.7 L/100 km. Toyota's so-called "Intelligent Manual Transmission" may not be perfect, but with downshift rev-matching control (just press the "iMT" button on the console), it can make any driver feel like a stick-shift pro.
Having said that, you get more safety with the CVT since Dynamic Radar Cruise Control and Lane Tracing Assist can't be had with the manual.
Our Verdict
The 2021 Toyota Corolla Apex Edition has a base MSRP of $27,440, which is $4,850 above the standard SE model. It's an interesting and exclusive alternative for Corolla fans, but not a product that will hurt the competition's sales. The Honda Civic (Si, Type R), Subaru Impreza (WRX, WRX STI), Hyundai Elantra (N Line, N), Kia Forte (GT), Mazda3 (GT, Turbo) and Volkswagen Golf GTI and Golf R all deliver superior power and performance.
Rather, the sporty Corolla we're dreaming about is the rumoured GR Corolla that could arrive within a year with around 250 horsepower and all-wheel drive. Now that would be exciting. Let's keep our fingers crossed.
Test drive report
Test model

2021 Toyota Corolla

Trim level
SE (man)
Price range
$19,350 – $28,950
Price as tested
CA$22,590
Warranty (basic)
3 years/60,000 km
Warranty (powertrain)
5 years/100,000 km
Fuel economy (city/highway/observed)
8.2 / 6.5 / 7.4 L/100km
Options
Apex Edition ($4,850)
Competitive models
2022 Honda Civic, 2021 Hyundai Elantra N Line, 2021 Kia Forte GT, 2021 Mazda Mazda3 GT, 2021 Subaru Impreza, 2022 Volkswagen Golf
Strong points

Racy looks
Vastly improved handling
Efficient engine
Corolla means reliability

Weak points

Same 169-hp engine
Excessively stiff ride at times
Some amenities are missing
Only 150 units in Canada

Editor's rating
Fuel economy
A combined 6.7 or 7.4 L/100 km depending on the gearbox. For a sporty sedan, that's good.
Comfort
The front seats are supportive, but the ride too often is excessively stiff, especially for a Corolla.
Performance
Nothing more than a passing grade here if we look at the competition.
Infotainment
The system is fairly comprehensive, but the interface is uninspiring.
Driving
It's the most fun-to-drive Corolla yet.
Overall
A good-looking car that handles surprisingly well, but punishes occupants with a stiff ride. We prefer to wait for a GR Corolla.