Ford Bronco Owners Report Troubling Hardtop Issues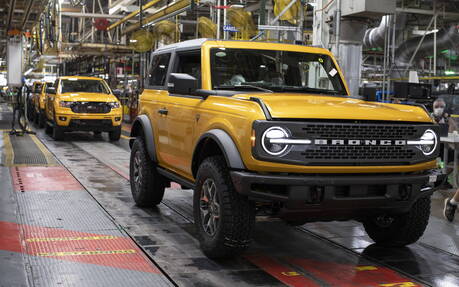 UPDATE--08/12/2021: Ford has announced that it will replace every Bronco molded-in-colour top produced to date, although it doesn't expect to have replacement tops until October. All existing MIC tops will be replaced before Ford produces any new vehicles with that same roof. Below is the original story.
Early adopters of the brand new 2021 Ford Bronco are experiencing even more frustration and apprehension. For multiple reasons that are mostly tied to the pandemic, German supplier Webasto is struggling to meet demand for the optional body-coloured hardtop, which has forced the company to delay this feature to the 2022 model year.
In the meantime, all models either get the soft top (not available on two-door Broncos) with a "hardtop prep kit" or else the "molded-in-colour" grey top.
The latter is now coming under fire as at least two Bronco6G forum members are reporting troubling issues.
One Bronco owner posted photos of scratches on their roof and edges that seemingly appeared out of nowhere. Another showed a hardtop with a honeycomb or snakeskin-like pattern—shortly after they waxed the roof—as if the structure of the roof was showing underneath.
Additional pictures reveal several two-door Broncos parked outside of the Michigan Assembly Plant with "Bad Roof" written on them.
That's not good at all. Did Ford neglect quality control checks as it rushed to launch and deliver the vehicle? A spokesperson has told American media outlets that the company does "maintain quality inspection before delivery. We want to make sure our customers are getting the highest quality product."
Hopefully the mystery will be solved sooner rather than later. At the moment, Ford continues to ship both two- and four-door Broncos with the molded-in-colour grey top. The automaker says it is happy to work with customers and their local dealer to sort out any possible issue.
Watch: A Look at the 2021 Ford Bronco Interior