Volkswagen
Atlas Cross Sport

GT Concept is Like a Golf R SUV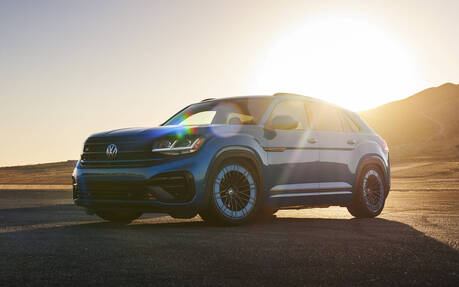 Ever wondered what would happen if Volkswagen combined the Atlas Cross Sport, a coupe-like midsize SUV, with a hot hatch such as the next-gen 2022 Golf R? It would probably result in something like this super-sporty SUV concept unveiled today by the automaker's U.S. division.
"The launch of the all-new Golf GTI and Golf R got us thinking about how to inject some of that VW magic into our SUVs," said Scott Keogh, CEO of Volkswagen Group of America. "This concept is proof that it's possible to build SUVs that could appeal to our performance enthusiast base."
The Atlas Cross Sport GT Concept was actually imagined and modified by American VW enthusiast Jamie Orr. The exterior sports a bright 'Kingfisher Blue' colour found on select Volkswagen products in Europe and was hand-painted by the Chattanooga production team.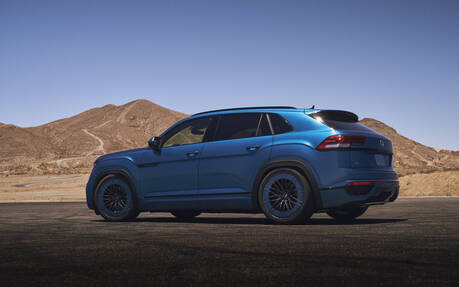 Then it adds 22-inch ABT Sport HR AEROWHEELs alloys with a totally unique design that includes a wide, body-coloured ring on the outer edge, plus Yokohama Advan Sport V105 UHP tires (285/35R22). Gloss black trim replaces the various chrome bits and GT badging can be found throughout, including on the springs that accompany the ST Suspension XTA Plus 3 coilovers.
In order to boost performance, the team installed a version of the EA888 2.0 TSI engine found in the new Golf R, with an IS38 turbo and an additional front-mounted radiator from the previous Golf R. Exact output is not specified, but it generates more than 300 horsepower. A seven-​speed DSG automatic transmission was paired with the standard 4Motion all-wheel drive system to handle the extra power, while TAROX eight-piston front brakes provide stopping power.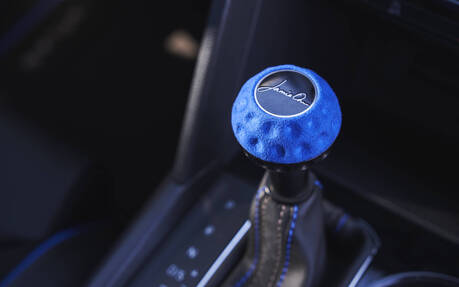 The interior was also transformed to reflect the racing aspirations of the Atlas Cross Sport GT Concept. You'll find RECARO Sportster CS bucket seats not only up front but in the rear, as well. The unique blue from the exterior carries over inside, including on the seats, seat belts and golf ball-style shift knob.
Volkswagen says no animals were hurt in the making of this vehicle, so don't look for real leather anywhere. Meanwhile, the custom rear centre console offers convenient storage with a Volkswagen Accessories safe and additional USB charging ports.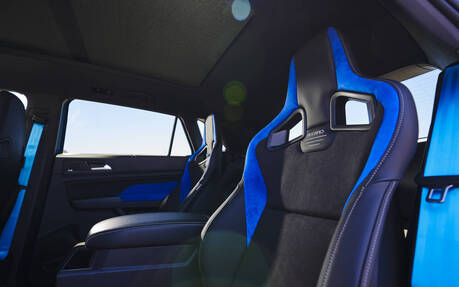 The company plans to show the Atlas Cross Sport GT Concept at select events across the U.S. later this year. Could a similar model join the VW lineup at some point? That would be awesome, for sure, but don't hold your breath. It's like the hot Tiguan R that refuses to cross the Atlantic.