Mercedes me Charge Debuts as Yet Another EV Charging Platform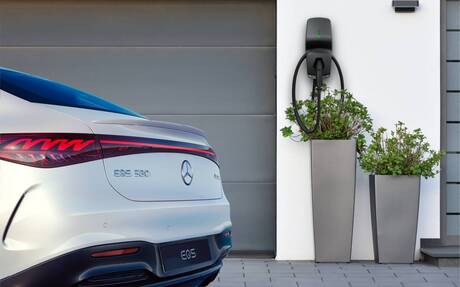 As it prepares to roll out its first EQ all-electric vehicles in North America, Mercedes-Benz today announced a new charging ecosystem that aims to make things simpler and more convenient for Canadian customers.
It's called Mercedes me Charge. From launch, drivers of Mercedes-EQ models starting with the EQS full-size sedan (three-year plan) will have access to over 4,900 public charging ports across Canada, making up more than half of the country's networked public charging ports. 
This is all possible through a strategic partnership with ChargePoint, FLO and other charging providers in Canada. The Mercedes me Charge ecosystem can also provide drivers access to an additional network of more than 2,400 semi-public ports on the ChargePoint network that reside in access-controlled environments like workplaces, shopping malls and hotels.
Mercedes-Benz says additional network partners will join the service after launch. And naturally, this charging infrastructure will also serve future Mercedes-Benz PHEV drivers.
So, how does it work? By the end of 2021, Mercedes me Charge customers will benefit from Plug & Charge functionality. Simply open the flap, plug in and the current immediately starts flowing without any further interactions. Plug & Charge will be a significant enhancement to the EQS charging feature set, which also allows drivers to enable charging via MBUX on the vehicle's media display, through the Mercedes me App or by using the Mercedes me Charge card.
Of course, you must first create a Mercedes me account and activate your Mercedes me Charge, but this means you don't have to set up an account with each network, subscribe to additional services or carry various charging cards.
The Mercedes me Charge platform also works hand in hand with the vehicle's navigation system to plan the fastest and most convenient route for drivers, including charging stops, and react dynamically to traffic jams, changes to driving style and even how busy a particular charging station will be in-real time. What's more, Mercedes-Benz utilizes a proprietary Green Charging feature which ensures that an equivalent amount of electricity from renewable resources is fed into the grid for charging electric vehicles.
And that's not all. Mercedes-Benz Canada has partnered with FLO and Qmerit, so customers can purchase a domestic charging station (FLO Home X5) and have it installed in a more convenient way.
"Mercedes-Benz Canada is pairing the exciting upcoming Mercedes-EQ product lineup with the very best electric ecosystem, so Mercedes-EQ drivers can experience peace of mind and convenience on their electric driving journey," said Eva Wiese, President and CEO of Mercedes-Benz Canada. Through partnerships with established charging experts, Mercedes me Charge offers drivers widespread charging coverage from coast-to-coast, along with seamless navigation and green charging options. Whether at-home or on Canadian roads, Mercedes-EQ drivers will experience modern electric luxury every step of the way."
Watch: 2022 Mercedes-Benz EQS is Unveiled