2021 Toyota
GR Supra

3.0: Makes You Feel Like Batman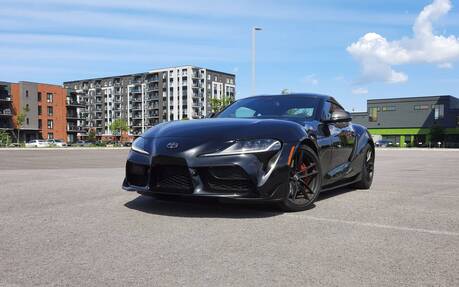 Toyota is doing its best—or so we assume—to shed its image of plain, uninspiring cars by launching sportier models with more character. Recently, we happened to test drive two of them in back-to-back weeks, although they couldn't have been more different: the Corolla Apex Edition and the GR Supra 3.0.
What does 3.0 mean? Well, obviously, it's not the third generation of the Supra (the fifth, actually). Rather, the number refers to the 3.0-litre engine under the hood since Toyota added a 2.0-litre four-cylinder model (called GR Supra 2.0) for 2021 and wanted to distinguish the two.
At $56,390, the entry-level Supra is a much cheaper option for customers, yet still very interesting with 255 horsepower and especially 295 pound-feet of torque. It also saves 90 kilograms, resulting in 0-100 km/h in just over five seconds.
Fast and Furious
Of course, the unquestionable star in the lineup is still the GR Supra 3.0, whose BMW-derived, turbocharged inline six-cylinder got a boost from 335 to 382 horsepower for 2021 thanks to a new piston design and dual-branch exhaust manifold that improves heat management. With launch control activated, 0-100 km/h sprints are a matter of four seconds.
We didn't get the opportunity to put the more powerful Supra to the test on a track, but we absolutely savoured every sprint out on the open road. Switching from Normal to Sport mode (either standard or customized), the car will forcefully pin you to your seat and stick a large grin to your face, even more so with the loud and crisp sounds of the engine—man, we'll miss those when EVs are all that's left. A bit of a warning, though: Sport mode makes the GR Supra 3.0 too restless for normal use around town.
As for the eight-speed automatic transmission, it proves generally smooth and quick to shift, but appears to be in too much of a hurry to dispel the lower gears and that becomes somewhat of an irritant. It's often best to shift manually using the gear selector or paddle shifters. Toyota still won't give us a manual transmission.
Plenty of Bite
The Toyota GR Supra 3.0 is a sports car that the average driver will not be able to push to the limit. It's primarily aimed at more serious drivers who have access to local tracks and know their way around them.
For 2021, Toyota engineers recalibrated the chassis for more precision and cornering stability, which you can easily appreciate through quick transitions such as compound turns. Mechanical fine-tuning was also enhanced with upgrades to various electronic systems including the Adaptive Variable Suspension and Vehicle Stability Control. 
Of course, the standard Michelin Pilot Super Sport tires deserve a lot of credit, too. They bite the road with ferocity just like the four-piston Brembo callipers clamp the huge ventilated discs. The brakes are quite sensitive, but the feeling of control you get behind the wheel is fantastic.  This is the kind of car a superhero might drive.
A Few Sacrifices, Naturally
If you're hesitating between the two models, you should know the GR Supra 2.0 is better suited for daily driving, while the 3.0 is almost fully equipped. The new A91 Edition we tested is definitely worth the $1,200 premium as it includes matte black 19-inch alloy wheels, carbon fibre mirror caps, an integrated black rear spoiler and a unique body side graphic.
The exclusive black and blue interior with Alcantara surfaces is paired with a choice of two body colours: Refraction (a bright blue that's unique to the A91 Edition) and Nocturnal (black). The former looks stunning and would be our choice, while the latter gives the Supra a mini-Batmobile appearance. Too bad you have to sacrifice head-up display and wireless smartphone charging to get the A91.
Speaking of sacrifices, access to the interior requires some contortions as with any low-slung sports coupe. Inside, there's reasonable space for medium-sized adults (the "double-bubble" roof was designed for drivers wearing a helmet), but the limited-height windshield and side windows compromise visibility. It's the reason why the centre touchscreen is so horizontally stretched.
We quite liked the 14-way power driver's seat with adjustable side bolsters. On the other hand, the seatbacks are a bit too tight at the top to be comfortable over long distances. The seats are heated but not ventilated and the memory buttons are buried on the left side of the cushions, making them hard to reach.
One last thing: the noise. No, not the engine's. There seems to be a flagrant lack of sound-deadening materials around the rear wheels because we could basically hear every little rock and debris projected into the wheel wells. Creaking noises coming from the rear shelf (or somewhere in that area) also proved annoying during our weeklong test drive.
From GR to Z
The 2021 Toyota GR Supra is an exceptional sports car and a rare sight on the road (just 333 units were sold in Canada last year and 244 in the first half of this year), so driving one is a special event and almost makes you feel like a rock star. The thrills it provides are different from those you get with muscle cars or a small roadster like the Mazda MX-5.
Right now, the Supra has no direct competitor, but that will change when the new Nissan Z will arrive, supposedly with around 400 horsepower. Two very different-looking cars, but expect a formidable duel.
Test drive report
Test model

2021 Toyota GR Supra

Trim level
GR Supra 3.0
Price range
$56,390 – $67,690
Price as tested
67 690 $
Warranty (basic)
3 years/60,000 km
Warranty (powertrain)
5 years/100,000 km
Fuel economy (city/highway/observed)
10,6 / 8,0 / 9,3 L/100km
Options
A91 Edition ($1,200)
Competitive models
2021 Dodge Challenger, 2021 Chevrolet Camaro, 2021 Ford Mustang, 2021 Mazda MX-5, 2020 Nissan 370Z
Strong points

Delicious power and sound
Impressive handling
Sporty interior
A head-turning car you don't see every day

Weak points

No manual gearbox
Limited visibility and storage
Some unwanted noises
Seats could be tad better

Editor's rating
Fuel economy
9.3 L/100 km on our watch. For a 382-horsepower sports car, that's pretty good.
Comfort
The ride is firm but not too much. Noise insulation is lacking and the seats could be a tad more comfortable.
Performance
The power boost for 2021 is great and Sport mode is just awesome.
Infotainment
The BMW-derived interface is fairly sharp and pleasant to use, more so than Toyota's units.
Driving
One of the most fun cars to drive, even though it requires a few sacrifices.
Overall
An exclusive car with exhilarating performance, something a superhero might drive. We'd highly recommend finding a track where you can really push it, though.