2021 Ford Bronco: The Real Deal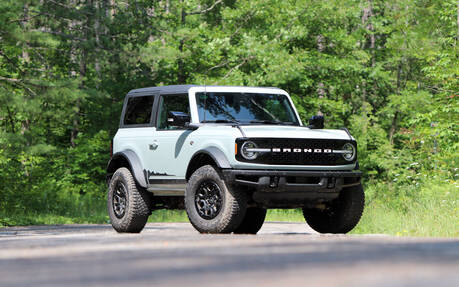 A few colleagues and I took turns behind the wheel of a Bronco Sport as we headed to the media launch of the all-new and highly anticipated 2021 Ford Bronco at the Canadian Tire Motorsport Park in Bowmanville, Ontario. The smaller Bronco is not a sporty SUV by any stretch, and our three-cylinder Outer Banks tester failed to impress despite a price tag of more than $40,000.
We were understandably a lot more excited about the real Bronco, the body-on-frame 4X4 designed as a direct response to the Jeep Wrangler. Introduced over a year ago, it has only begun to arrive at Canadian dealers due to various delays caused by the COVID-19 pandemic as well as production and quality issues. Some of these involve the molded-in-colour hard top which Ford will have to replace as part of a massive recall because of leaks and premature wear.
Before letting us loose on the road and in the trails, the Ford reps briefed us on their latest toy. The modern Bronco is a passion-infused product available in six trim levels and two body styles (two doors and four doors). Just a few seconds in, the presentation had a definite Jeep feel to it, with a focus on customization and accessories, plus the spirit of adventure which customers can enjoy through available off-road programs. This is pretty much new stuff for the company, which hasn't offered a proper off-road SUV since the old Bronco bowed out in 1996.
Comprehensive Lineup
From the base model riding on steelies all the way to the Wildtrack aimed at extreme off-road enthusiasts, the 2021 Ford Bronco covers plenty of ground. In order to attract even more potential buyers, it's also available with a soft top or hard top that can be removed just like the (frameless) doors in true Wrangler fashion. The latter are designed to be stored in the back of the vehicle (four-door configuration only). Expect the Big Bend and Outer Banks models to be the biggest sellers, although demand for the more luxurious Badlands and hardcore Wildtrack is quite strong at the moment.
Sharing its architecture and assembly line with the Ford Ranger midsize pickup, the Bronco comes standard with a turbocharged 2.3-litre four-cylinder engine that delivers 275-300 horsepower depending on the type of fuel. Optionally (or standard on Wildtrack), the excellent turbocharged 2.7-litre V6 provides 315-325 horsepower. It's the only engine we got to sample at this event, mated to a 10-speed automatic transmission. Incidentally, the four-banger can be specified with a seven-speed manual gearbox that features a crawler gear.
Similar to the Bronco Sport, Ford's Blue Oval is replaced with a Bronco badge on the steering wheel as the first in a long list of reminders that this truck is special and ready for adventure. Others include unique grab handles, switches at the top of the centre stack, fancy cargo nets in the door panels and seatbacks, not to mention bold colour combinations. Overall, the design of the dashboard is flawless, except maybe for sunrays which can bounce off the centre display (up to 12 inches in size) when driving topless. The seats are fairly comfortable and presumably less of a pain than the Wrangler's on long trips.
Gentle Off-road Driving
Let's be honest, the off-road challenges set up by Ford were not particularly difficult—just enough to showcase some of the Bronco's capabilities without scaring journalists. There were slopes, bumps, rocks, a bit of mud and water any small SUV could have traversed.
We did appreciate how easy it is to lock or unlock the differentials using the aforementioned switches while making the most of the various G.O.A.T. drive modes (as in Goes Over Any Types of Terrain). What's more, Trail Turn Assist is a great technology that locks the inside rear wheel to significantly reduce the turning radius. One-pedal driving is even possible in certain conditions, with the engine brake effectively slowing the Bronco down in tough trails—not so much in other areas.
The new Ford Bronco is one capable SUV, that's for sure. Approach and departure angles are just as impressive as handling, regardless of the terrain. Of course, the shorter two-door variant is more fun to drive off the beaten path. And with the lighter four-cylinder engine (which we couldn't test), expect even more fun. The latter delivers comparable power to Jeep's four- and six-cylinder engines in addition to more generous torque.
The four-door Bronco, meanwhile, is the one that can provide decent comfort—certainly more so than the Wrangler. Our quick trek on paved roads during the event didn't really give us time of assess its ride quality.
Oopsie
The plan was to return home with the Bronco for a trip of about 450 kilometres. Alas, before we could depart, a warning light alerted us to a problem with the battery, probably caused by water and mud buildup. Ford offered us a second, identical vehicle but the same issue occurred. The lights for the 4x4 system and maintenance reminder also popped up despite the unit having logged a mere 1,600 kilometres. Clearly, something was wrong.
After my initial road trip partners had left with our Bronco Sport, I was told another Bronco could be available. Guess what? That one had the same battery issue, too. It appears Ford's supposedly rugged SUV has more than one design flaw that needs fixing. I ended up going back to Montreal in a Mustang that belonged to a company employee. Sure, the drive was quite pleasant, but it made my first experience with the Bronco feel incomplete.
Be Extremely Patient
Like all new models in high demand at the moment, Bronco customers must be extremely patient. Ford has received way more orders than it can handle and production delays keep adding up. The ongoing chip shortage is one part of the story, but the troublesome hard top is another reason why Ford is forced to park thousands of units as they await delivery.
Ordering a Bronco today could mean a wait of 12 months or longer, no matter which trim level you select. Of course, this gives the automaker time to address some of the growing pains we've talked about. But it better act fast as the Bronco is a critical product. If I were personally considering the purchase of a new Bronco, which is an emotional one to make, I'd listen to the voice of reason and wait another year to place my order. A 2022 or 2023 model will inevitably be better and more reliable.
A final note about pricing, which isn't super-attractive yet competitive. The lineup starts at just over $40,000 and goes all the way up to about $60,000 without any options. Our tester retailed for exactly $74,539 including destination and delivery. Ouch. Then again the 2021 Wrangler is priced in about the same ballpark following big hikes in recent years. Jeep customers don't seem to care, so the same will likely apply to the Bronco's.
Test drive report
Test model

2021 Ford Bronco

Trim level
Badlands 4 Portes
Price range
$40,499 – $59,994
Price as tested
CA$72,639
Warranty (basic)
3 years/60,000 km
Warranty (powertrain)
5 years/100,000 km
Fuel economy (city/highway/observed)
14.0 / 13.9 / N/A L/100km
Options
334 A Package ($5,500), 2.7L V6 ($2,000), Automatic transmission ($1,750), Sasquatch Package ($4,500), Body-coloured hard top ($795), Cargo nets ($450), Floor mats ($200), Towing Package ($600)
Competitive models
2021 Jeep Wrangler, 2021 Toyota 4Runner, 2021 Land Rover Defender
Strong points

Lovely design
Remarkable off-road capabilities
Good powertrain options
Plenty of selection

Weak points

High price
Low fuel economy
Design flaws that need fixing
Limited availability

Editor's rating
Fuel economy
About the same rating in the city and on the highway. Blame the Bronco's aerodynamics.
Comfort
Comfort is definitely not the Bronco's forte, but it's still better than the closest rival.
Performance
Off-road performance impresses just as much as the powerful V6.
Infotainment
Ford's system is nearly flawless and a model for others.
Driving
N/A A ton of fun off the road, this SUV is a real grown-up's toy.
Overall
The new Bronco is a marvellous product, but some design flaws need to be fixed ASAP.