2022 Toyota GR 86: 0.4L Makes All the Difference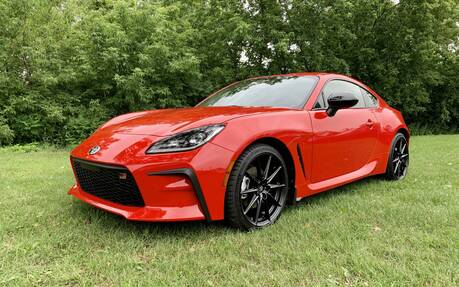 Toyota's entry-level sports coupe gets a fresh start for 2022. The car formerly known as Scion FR-S then Toyota 86 will now officially be called "GR 86" as the latest addition to the Gazoo Racing line. Similar to the first generation, it continues to share plenty of components with the Subaru BRZ.
The Car Guide was part of a small group of Canadian auto journalists that were invited to put the new 2022 Toyota GR 86 to the test for the first time. Did it impress? Read on.
New Boxer Engine
The biggest news with the second generation can be found under the hood. Gone is the 2.0-litre four-cylinder boxer engine, replaced by a 2.4-litre unit. Output has increased from 205 to 228 horsepower, while torque is up from 156 to 184 pound-feet. Quite frankly, it's all this car needed. Many people have criticized the previous 86 for its lack of power, despite having a light weight, rigid frame and great overall balance. It's no longer a problem now. Hats off to Toyota/Subaru.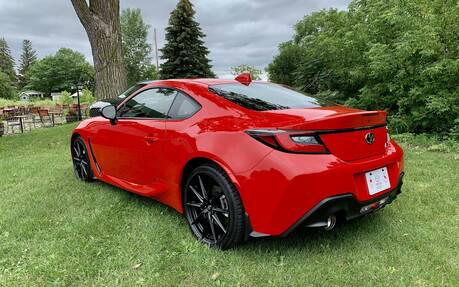 Of course, some will wonder about what could have been. At Subaru, the same engine gets a turbocharger in the Legacy, Outback and Ascent. We'd be thrilled if the new GR 86 and BRZ followed suit at some point, but this is just speculation on our part. The automaker has given no hints of that yet.
Aesthetically, the 2022 Toyota GR 86 used a very conservative approach. It looks sharp but resembles its predecessor a bit too much. The grille, headlights and taillights are revised, and there's a new air intake on the front fenders. An aluminum hood, roof and fenders help reduce weight.
Still Fun
This little coupe continues to be a hoot to drive. The six-speed manual transmission is still around and you should definitely go with it in order to make the most of the car. It's a well-designed unit, and because power remains fairly modest a lot of the fun comes from rowing your own gears. Please don't select the autobox. In fact, the managers at Toyota Canada told us only a small percentage of 86 customers do so.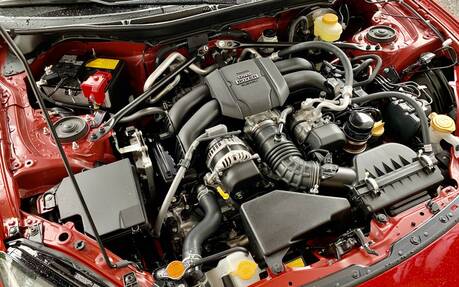 Unfortunately, our brief time behind the wheel of the new GR 86 was spent under heavy rain.  You may forget about it when driving on dry pavement, but in the wet you will be served with constant reminders that this is a RWD car and you need to work to deserve your place. We were also able to appreciate the enhanced sound of the engine.
Interior Already Feels Dated
Neither Toyota nor Subaru has the reputation of designing extremely modern and attractive interiors, so you can imagine what happens when these two companies work together. For sure, the GR 86's cabin proves functional and ergonomic, but material quality is clearly not how this model stands out.
By the way, the 2+2 configuration has been retained, meaning you could theoretically bring small passengers for short drives. In reality, the rear seats are a pain. Access is complicated, and once you're there you just can't feel comfortable in any way.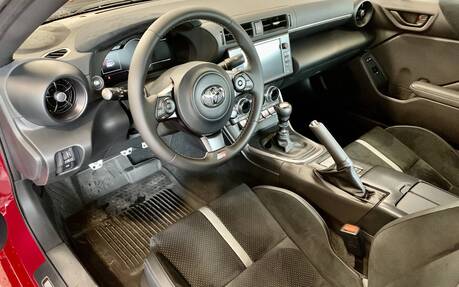 For the rare GR 86 drivers that will hit the track, a spare set of wheels and tires can fit inside despite the tight dimensions.
No Prices or Fuel Ratings Yet
Toyota has yet to announce pricing for the 2022 GR 86. Incidentally, there was no 2021 model. As for fuel consumption, we don't have the ratings, either. The outgoing 86 achieved a combined 9.9 L/100 km according to Natural Resources Canada, so expect a slightly higher number with the bigger, more powerful engine.
One dealer from the Greater Montreal area told us the Toyota GR 86 will go on sale in October, but the automaker has not provided a specific date. We think it's rather strange to launch a sports car just ahead of winter. The original 86 was a treat in the summer, not so much during the cold season. We don't foresee that changing with the GR 86.
Even though we're missing bits of information, one thing's for sure: Toyota's little coupe has evolved nicely going from first to second generation. No longer underpowered, the GR 86 proves immensely fun to drive. Enthusiasts will keep cherishing it.
Test drive report
Test model

2022 Toyota GR86

Trim level
Premium
Price range
$30,995 – $36,495
Price as tested
CA$36,495
Warranty (basic)
3 years/60,000 km
Warranty (powertrain)
5 years/100,000 km
Fuel economy (city/highway/observed)
9.1 / 7.1 / N/A L/100km
Options
N/A
Competitive models
2021 Mazda MX-5, 2022 Subaru BRZ, 2022 Volkswagen Golf GTI (man)
Strong points

Exciting driving dynamics
New engine is a much better fit
Pleasant sound
Great manual gearbox

Weak points

Uninspiring interior
Useless rear seats
Winter performance is a big concern

Editor's rating
Fuel economy
N/A No ratings yet.
Comfort
The front buckets are comfortable, but the rear seats are the complete opposite.
Performance
The new 2.4-litre engine is exactly what this car needed.
Infotainment
Neither the best nor the worst system around.
Driving
It's hard not to grin behind the wheel of the GR 86.
Overall
The GR 86 is a no-compromise car. If you can handle that, prepare for a ton of fun.