Watch: Rimac Nevera Takes on Tesla
Model S

Plaid for EV Supremacy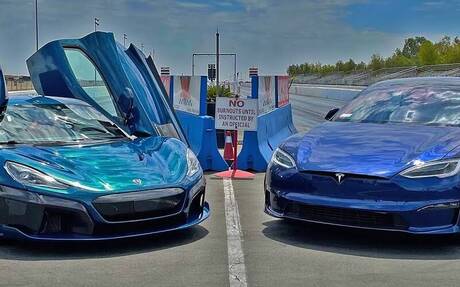 In the past few weeks, two new electric cars have claimed to achieve the quickest accelerations and the fastest quarter-miles of any production vehicle on the planet, but how do they compare head-to-head? Now we have the answer.
The Tesla Model S Plaid sedan is the pride of Elon Musk with three electric motors generating 1,020 horsepower. Meanwhile, the Rimac Nevera from Croatian entrepreneur Matte Rimac is a four-motor, 1,914-horsepower hypercar. Despite the former having two extra doors, they weigh pretty much the same—4,766 pounds and 4,739 pounds, respectively.
The guys at DragTimes managed to get their hands on both for a matchup at the Famoso Dragstrip in California and posted the results in the YouTube video below:
In the first race, the Nevera overcame a relatively slow start to finish the quarter-mile in 8.655 seconds, while the Model S Plaid crossed the line in 9.272 seconds. The second time, they were clocked at 8.641 seconds and 9.312 seconds, respectively. The same scenario played out in the third and final race, with the Croatian missile getting the win at 8.615 seconds versus 9.294 seconds for the American.
The gap between the two was about 6-7 tenths of a second on average. Rimac's car consistently hit the line at a speed of 166.5 mph (268 km/h), while the Tesla did it at 151.8 mph (244 km/h) on average.
In all three runs, the Nevera was also the quickest to reach the eighth-mile mark. Of course, the drivers' reaction times can always make a difference. As for acceleration from 0-60 mph (97 km/h), Rimac claims a time of 1.85 seconds whereas Tesla is one hundredth below the two-second barrier.
When it comes to getting the most bang for your buck, however, the winner is unquestionably the Model S Plaid, which starts at $169,990 in Canada. It's a real bargain compared with the Nevera, which costs 2 million euros or the equivalent of $2.97 million.