Tesla's Next Project is a Friendly, Autonomous Humanoid Robot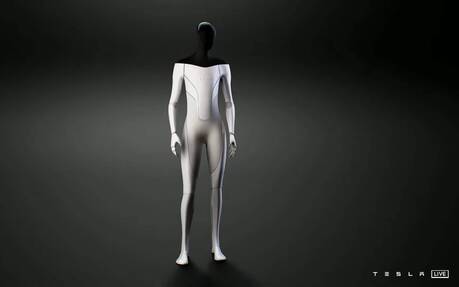 During Tesla's AI Day yesterday, the electric car maker announced the new D1 chip for its Dojo supercomputer—a key to self-driving vehicles of tomorrow—as well as a humanoid robot called Tesla Bot.
No, it's not a joke. And yes, it's a bit creepy. CEO Elon Musk said a working prototype is scheduled to be unveiled officially in 2022.
Describing Tesla as "the world's biggest robotics company" since Tesla cars are pretty much "robots on wheels," he explained that the humanoid robot will incorporate technology from the Model S, 3, X and Y including eight Autopilot cameras and a Full Self-Driving computer.
A screen will serve as the robot's "face" and interact using voice recognition, while 40 electromechanical actuators will enable human-like movements. The Tesla Bot will measure 5 feet and 8 inches in height (1.73 metres) and weigh 125 pounds (56.7 kilograms).
If you fear that this is going to end up just like in the 2004 movie I, Robot, Musk can reassure you: the robot is designed to be friendly, much slower and slightly less powerful than a human being. It can walk/run at speeds up to 8 km/h and lift up to 150 pounds (68 kilograms). In fact, its one and only function will be work.
"Essentially in the future, physical work will be a choice. […] Robots will eliminate dangerous, repetitive and boring tasks from our daily lives," Musk suggested, though he wasn't clear about who will really benefit from this robotic workforce.
Japanese automakers Honda and Toyota have also launched robots in the past, with various models designed to assist and entertain humans. More recently, Hyundai finalized the acquisition of robotics company Boston Dynamics to help it develop future Ultimate Mobility Vehicles that in some cases feature articulated legs.
Watch: Toyota Unveils Third-Generation Humanoid Robot T-HR3